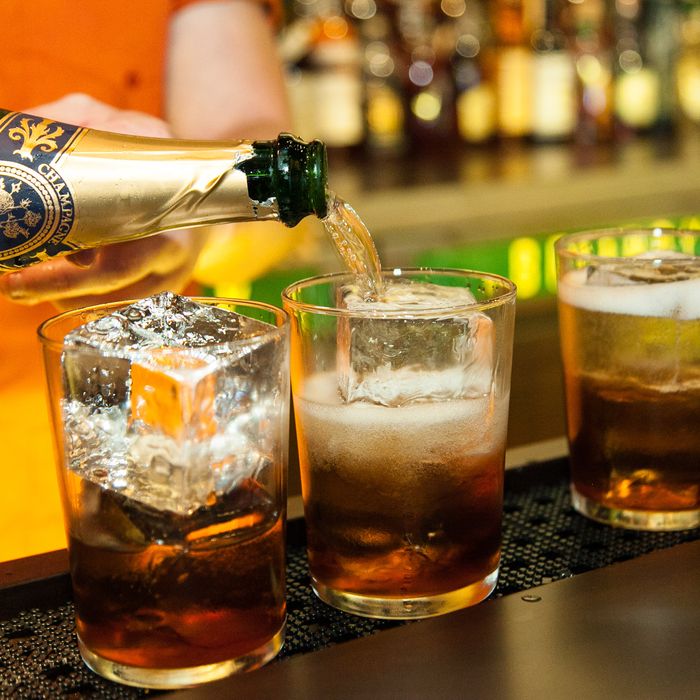 Champagne is involved.
Photo: Andrew Kist
The rum-and-cola at BlackTail, a new Cuban-themed bar in lower Manhattan from the Dead Rabbit team, is poorly named. It is not a rum-and-cola because, let's be honest, it is not merely rum plus cola. It's more like rum times cola. Rum to the power of cola. It's Coke, at home in Atlanta, receiving rum-scented love letters from a paramour abroad. On a scale of 1 to 10, this rum-and-Coke is an 8, but that's not an "8." It's an infinity symbol, standing at attention, full of wokeness.
Technically, yes, okay, rum and cola are the drink's two main ingredients, but this is more than a clever take on the classic Cuba Libre. It's a drink stripped down only to what works, then built back up to what dazzles. It starts with a lightly aged Bacardi rum and Coca-Cola syrup. The drink gets its bubbles from Champagne. It's also spiked with a half-teaspoon of Fernet Branca and a dash of the owners' homemade bitters.
It is also — as chance would have it — a timely political take on Cuba during a time when it's the freest it's been in half a century. "We actually had this idea before the Dead Rabbit," says Jack McGarry, a managing partner at BlackTail, along with his Rabbit pal Sean Muldoon. "Seven or eight years ago. We wanted to call it the Pan-American Clipper. But then we researched the history, and the blacktails just won us over."
The blacktails date back to Prohibition — Wait! Don't go anywhere! This isn't a story about a speakeasy! — when small airplanes with signature black tails would shuttle thirsty New Yorkers from their dry Manhattan to the "wet" shores of Havana, which is not just home to the daiquiri and the mojito, but also, thanks to Ernest Hemingway, the phrase "one for the road."
BlackTail's other drinks are just as highly considered. The rye-and-ginger has fig. There's yuzu in the Nacional. A drink might contain apple brandy, honey, orange, pomegranate, and Sriracha. Absinthe, Campari, coffee, and vanilla show up, too. Even green tea, lime, pisco, and pear soda. It's no wonder the cocktail menu is a 78-page hardcover book of 40-odd drinks, all priced at $16 (the rest of the book is devoted to the history behind the place).
Daiquiris have become something of a calling card among the city's top bartenders (thanks, at least in part, to the late Sasha Petraske's affinity for the mixture of rum, lime, and sugar). But McGarry's frozen daiquiris and flavored shaken versions — available in banana, lime, pineapple, or strawberry — nevertheless manage to yank the drink free of its Applebee's-and-cruise-ship stigma and turn it into something genuinely elegant. It's a lot of mixology (the strawberries in that daiquiri are cooked sous-vide for two hours), but the drinks were meticulously researched from the era of Prohibition through to Embargo in 1960. And the creative flair on display at BlackTail is no different than what's happening right now in Havana, where even ordering a simple gin-and-tonic will get you a goblet of cocktail filled with vanilla beans and rose petals.
"A great drink doesn't have to have 20 ingredients," McGarry says. "We have a few as low as four. We just put a lot of work into them. Every two weeks, we do R&D. A drink might go through as few as 10 to 15 versions in that process, or as many as 40 to 50."
That attention to detail is why McGarry remains a star on the international bartending circuit. And it's also why a drink as seemingly simple as a rum-and-cola can speak to one country's history, as well as its future.