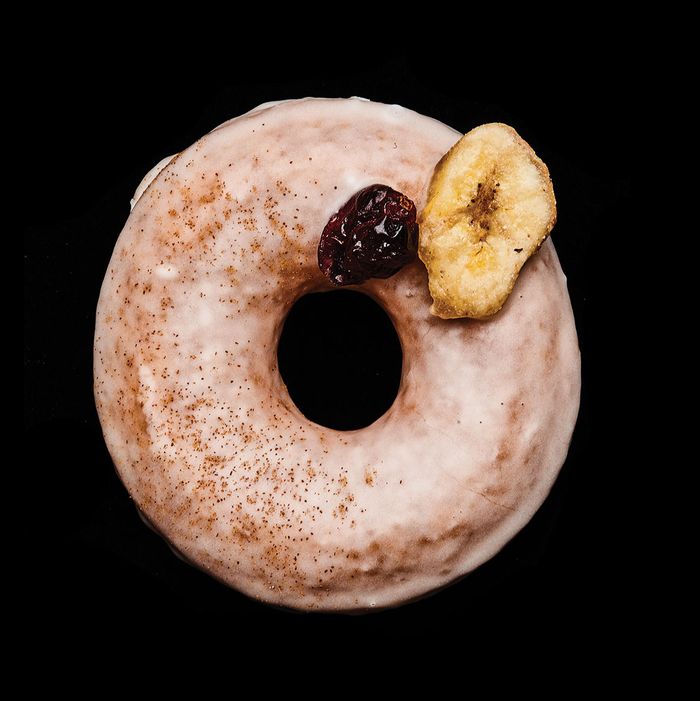 Underwest Donuts at Penn Station
Photo: Bobby Doherty/New York Magazine
August
Cava Grill
145 Fourth Ave.
You might know this D.C.-based chain by the dips it sells at Whole Foods; you'll find the same Crazy Feta and Spicy Hummus at the first New York branch.
September
abcV
38 E. 19th St.
Jean-Georges Vongerichten delves deep into roots, shoots, and leaves without trying to mimic meat at his long-awaited "vegetable restaurant."
A&E Supply Co.
548 Fourth Ave., Gowanus
Coffee bar and grocery by day, restaurant by night, where you can buy your grass-fed beef from the butcher case or eat it in a spiced sirloin tonnato.
Augustine
5 Beekman St.
Keith McNally says Augustine at the new Beekman hotel in the Financial District will be his most glamorous restaurant to date.
Clover Grocery
10 Downing St.
Cafe Clover spawns an equally health-conscious takeout shop and private-event space.
Cut
99 Church St.
Wolfgang Puck makes his steak-centric New York debut at The Four Seasons Hotel New York Downtown, where carnivores can compare American wagyu to its Japanese counterpart.
Épicerie Boulud
185 Greenwich St.
Daniel brings grab-and-go coq au vin and an oyster bar to the Oculus.
Fish Cheeks
55 Bond St.
Brothers Chat and Ohm Suansilphong team up to cook Thai seafood in a Noho restaurant named for what many consider to be the tastiest part of the fish.
Fowler & Wells
5 Beekman St.
Tom Colicchio sets up shop at the Beekman hotel, cooking in the style he became known for at Gramercy Tavern and Mondrian.
Harold's Meat + Three
2 Renwick St.
Harold Moore gives the southern-style meat-and-three format a New York spin at the Arlo Hotel in Hudson Square.
Italienne
19 W. 24th St.
Jared Sippel, who cooked at San Francisco's Quince and Boulder's Frasca Food and Wine, is one chef who should be on your radar this fall. He's bringing dishes inspired by Southern France and Northern Italy to the Flatiron District.
La Newyorkina
240 Sullivan St.
Dough Doughnuts founder Fany Gerson opens a sweets shop inspired by her native Mexico's myriad confections and frozen desserts.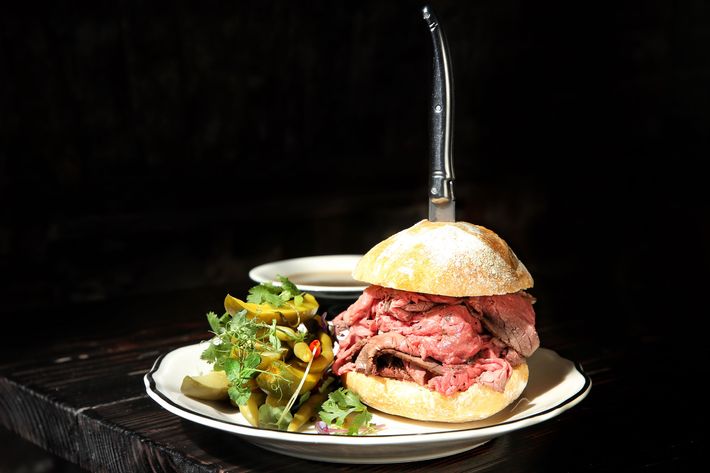 Maison Pickle
2315 Broadway
From the folks at Jacob's Pickles comes the menu we've been waiting for: not one, not two, but three French dips (classic, deluxe, and royale), plus a bunch of chops and sides, cakes and pies, and other soporific crowd-pleasers.
Majorelle
28 E. 63rd St.
The Lowell Hotel's new restaurant takes its name from a botanical garden in Marrakech; Moroccan flavors likewise inspire Christian Delouvrier's Mediterranean-French menu. And a new garden gives restaurateur Charles Masson, late of La Grenouille, a chance to exhibit his famously green thumb.
Mimi Cheng's Dumplings
380 Broome St.
The East Village's reigning dumpling sisters head to Nolita with new bento boxes and scallion pancakes.
Mingy Rose
1710 Second Ave.
Erika Chou and chef Doron Wong, late of Yunnan BBQ, bring barbecued ribs to their new Upper East Side home, along with XO shrimp with soy crumble, and red-braised pork belly guo bao.
N'eat
58 Second Ave.
All your favorite New Nordic techniques — pickling, salting, smoking, brining, and fermenting — are on display here. The Swedish chef, Gabriel Hedlund, has cooked at a Who's Who of Scandinavian restaurants in Oslo and Copenhagen, and, yes, he did time at Noma with René Redzepi.
Nur
34 E. 20th St.
Gadi Peleg, an investment manager and entrepreneur with a golden palate, is the man we have to thank for luring the Tel Aviv baker Uri Scheft to New York to open the excellent Breads Bakery with him. Now, Peleg has done it again, having recruited Israeli celebrity chef Meir Adoni to the Flatiron District. Look for modern Middle Eastern dishes and perhaps bread from Breads.
OCafe LES
61 Hester St.
Argentine chef and potter Fernando Aciar opens two adjacent businesses this fall: an expansion of his Greenwich Village coffee shop, serving daily brunch and nighttime small plates like burnt-eggplant salad and fish empanadas, and FefoStudio, a showcase for his own ceramics line.
Parm
162 N. 4th St., Williamsburg
Mozzarella sticks, garlic bread, Sunday salad, Buffalo cucumbers, and Chinese ribs grilled San Gennaro style. Must be another Parm on the horizon. Yes, sir, the Major Food Group is making its move to Brooklyn, and as they often do on these auspicious occasions, they're debuting a new sandwich, exclusive to the location — a hand-sliced prime-rib hero with peppers, mushrooms, and onions.
Phil & Anne's Good Time Lounge
196 Smith St., Cobble Hill
Anne Burrell, the other spiky-haired food-TV personality, gets out from behind the cameras and back in the kitchen at this neighborhood boîte, a partnership with Daddy-O barman Phil Casaceli. The cooking is American; the accent is Italian.
Rouge Tomate Chelsea
126 W. 18th St.
The new home of the vegetable-forward, sustainably-minded, all-around delicious Rouge Tomate in a converted 19th-century horse stable promises to be more intimate and laid-back than the East 60th Street original, which left some cold. Andy Bennett is the chef; the superb sommelier Pascaline Lepeltier is the brains behind the beverages.
Wagamama
210 Fifth Ave.
Launched in London in 1992 by Alan Yau, this chain is famous for popularizing ramen noodles, communal tables, and open kitchens — and making a lasting impression on a pre-Momofuku David Chang. New York's first branch will serve basically the same teppanyaki, donburi, ramen, and curries as its 158 predecessors; the cocktail program is all new.
White Gold
375 Amsterdam Ave.
April Bloomfield and Ken Friedman named this whole-animal retail butcher-shop-cum-restaurant after the old-school meat-cutter term for "the beautiful fat on a perfect piece of beef," says Friedman.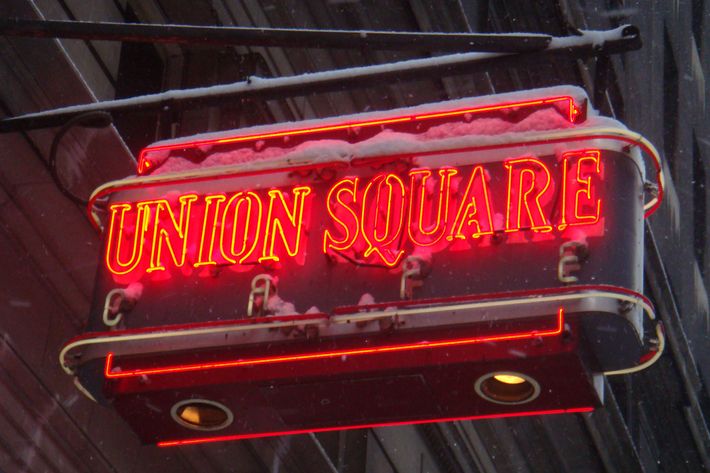 October
Bunker
99 Scott Ave., East Williamsburg
Everyone's favorite hinterland-Queens Vietnamese restaurant expands into larger Brooklyn quarters with outdoor seating and a full bar.
Harvey
96 Wythe Ave., Williamsburg
Chef Adam Leonti parlays all the milling and baking experience he gained from his Brooklyn Bread Lab pop-up into this restaurant at the Williamsburg Hotel, where the menu will focus on vegetables and grains.
Ichiran
386 Johnson Ave., Bushwick
Are you ready for more tonkotsu? That's the only thing this Japanese ramen chain does. They're so proud of it they give you the option of dining in a "flavor-concentration booth," a sort of private-slurping stall that provides solo diners the environment they need to focus all their attention on their soup. Sounds okay, but isn't that what lunch at your office cubicle is for?
Unnamed Dan Kluger restaurant
21-23 W. 8th St.
The erstwhile ABC Kitchen veggie guru Dan Kluger's long-awaited, still-unnamed-at-press-time solo project. On the menu: wood-grilled broccoli salad with pistachios, chiles, and spicy orange mayonnaise; crispy cauliflower with Indian spices and sweet-and-sour lemon jam; and roasted black bass with summer vinaigrette.
Kreuther Handmade Chocolate
43 W. 42nd St.
A 15-seat Gabriel Kreuther annex showcasing pastry chef Marc Aumont's handiwork.
Lalo
104 Bayard St.
Former El Rey chef Gerardo Gonzalez cooks "hippie Chicano" in the old Winnie's karaoke bar space.
Leuca
111 N. 12th St., Williamsburg
Andrew Carmellini is new to Brooklyn, but not to hotel restaurants. This one, at the William Vale, has a coastal Southern Italian theme, while rooftop bar Westlight serves global street food.
Made Nice
8 W. 28th St.
How is the Eleven Madison Park crew's notion of fast-casual different from the rest? There's no counter, no mix-and-match, and no build-your-own.
Massoni
11 E. 31st St.
At the Arlo Nomad hotel, Dale Talde's idea of "inauthentic Italian" extends to arancini made with biryani-style rice, and gnocchi with gochujang chicken jus.
Monroe
49 Monroe St.
The team behind the Lower East Side's Forgtmenot, Kiki's, and Little Chair coffee shop expands its brand of home-style cooking and low-key atmosphere with a Southern European restaurant located inside a former glass factory, serving the foods of France, Italy, and Spain.
Sen Sakana
28 W. 44th St.
Peruvian-Japanese fusion cooking is nothing new in this town, but co-chefs Mina Newman (Layla, Dylan Prime), whose mother is Peruvian, and the Japanese native Taku Nagai (Ootoya) say that theirs is the first full-fledged Nikkei menu in New York, alluding to the cuisine of the Japanese who emigrated to Peru in the late 1800s.
Sweetcatch
642 Lexington Ave.
Regarding poke: Apparently, we've been doing it wrong. Deuki Hong, of the smash hit Korean barbecue joint Baekjeong, and Hawaii chef and Top Chef alum Lee Anne Wong are here to help with build-your-own bowls, a pay-by-the-pound poke bar, and Hawaiian beer to wash it down.
Tim Ho Wan
85 Fourth Ave.
Hong Kong chef and dim sum master Mak Kwai Pui, who operates what has been called "the world's cheapest Michelin-starred restaurant," brings his renowned prawn dumplings and Chinese-sausage-stuffed, lotus-leaf-wrapped rice to the East Village — great news for penny-pinching New York Sinophiles.
Union Square Cafe
235 Park Ave. S.
After the rent increase heard round the world, Danny Meyer packs up his deluxe hospitality kit and moves his seminal farm-to-table restaurant three blocks north and one east to new digs. Chef Carmen Quagliata has been working overtime brainstorming new dishes, which is not to say he won't hang on to a few classics like the ricotta gnocchi. And David Rockwell, a regular USC customer from way back when, designed the space, which is more than double the size of the original.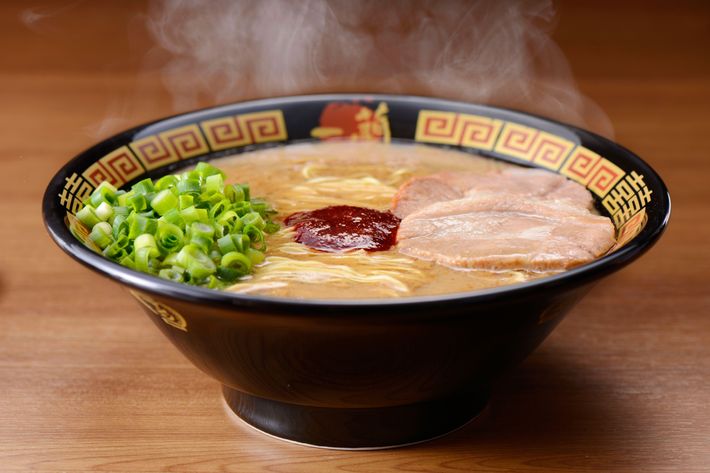 November
A/D/O
29 Norman Ave., Greenpoint
Aska chef Fredrik Berselius and Danish-food magnate Claus Meyer move into this 23,000-square-foot design incubator, with a canteen that serves breakfast and lunch. "The whole idea," says Meyer, "is to be almost like a communal space, and to connect to people on the outside." Come suppertime, the goal is to create "a nice, informal, wonderful Scandinavian take on a low-key restaurant."
Atla
372 Lafayette St.
Cosme's more casual, 60-seat spinoff will be the kind of place you go to grab a taco and beer — or make that a michelada. The name comes from atl, the Aztec word for water.
Brooklyn Cider House
1100 Flushing Ave., Bushwick
Call it a midlife cider crisis: A passion for Basque ciders led Peter Yi to sell his acclaimed PJ wine shop, buy a New Paltz apple orchard, launch a cider line, and build this restaurant, bar, and cidery in a Bushwick warehouse. He'll pair his own bottlings with foods like cider-cooked chorizo, bacalao, and fried codfish head.
DeKalb Market Hall
445 Gold St., Downtown Brooklyn
Another food court? Yes, but this one's vendors include the first outpost of Katz's deli, not to mention the mozzarella mavens of Lioni Italian Heroes, burger sensation Hard Times Sundaes, and fried-chicken hot spot Wilma Jean, plus around three dozen more.
Empellón
510 Madison Ave.
Alex Stupak goes to midtown.
Ortzi
120 W. 41st St.
Ecuadorian-American Iron Chef Jose Garces, he of Amada at Brookfield Place and more than a dozen other restaurants around the country, adopts a Basque accent at the Luma Hotel Times Square.
Pig Bleecker
155 Bleecker St.
Where there once were Bark hot dogs, there will now be the "smoke-centric comfort food" of chef Matt Abdoo and his Pig Beach partners.
Two Forks
119 W. 40th St.
Pulled meats, seasonal slaws, and global sauces make up the menu of this fast-casual contender; "slow cooked, pulled fast" is the motto.
Underwest Donuts at Penn Station
Seventh Ave. at 32nd St.
You know those fantastic doughnuts the Chanterelle alum Scott Levine whips up in the car wash on the West Side Highway? He's bringing them to the train station. Look for the debut of the banana-milk doughnut (because bananas are Levine's go-to snack for racing through transport hubs), and wash one down with a cup of Joe coffee.
December
Black Walnut
140 Schermerhorn St., Boerum Hill
Rob Newton began reinterpreting his native Southern cuisine at the now-closed Seersucker, and he'll continue where he left off at this hybrid of Seersucker and his casual canteen, Wilma Jean, where he's aiming for a "Gjelina meets the South kind of vibe."
Blue Ribbon Federal Grill
84 Williams St.
The AKA Wall Street hotel gets a restaurant from the ever-eclectic Bromberg brothers, who might have invented the concept of the American brasserie.
Unnamed Seamus Mullen restaurant
60 Furman St., Brooklyn Heights
Tertulia's tapas maven is the chef in charge at the "ecoluxury" 1 Hotel Brooklyn Bridge, which occupies prime real estate leased from Brooklyn Bridge Park.
*A version of this article appears in the August 22, 2016, issue of New York Magazine.