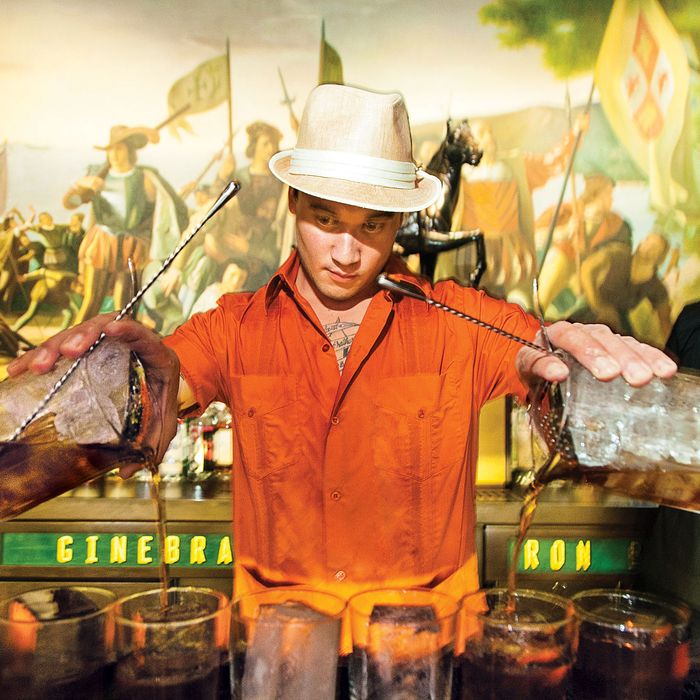 A bartender at Blacktail.
Photo: Courtesy of Blacktail
For Cocktails
BlackTail
Pier A Harbor House, 22 Battery Pl., nr. Little West St.; 646-422-7906. Just opened.
This spot from the founders of the Dead Rabbit is meant to recall Cuba during America's Prohibition. There's décor culled from Havana antiques shops, palm plants, and (like the bar's Irish-American sister) a menu that resembles a beautiful book. Ask your fedora-sporting bartender for an El Presidente, which is livened up with mezcal and mole bitters.
The Last Word
31-30 Ditmars Blvd., Astoria; 718-440-3378. Just opened.
Alums from Raines Law Room and Maiella team to open this cocktail spot, a happy upgrade to a 2,000-square-foot space that recently housed a chain coffee shop. With your rhum-agricole-based Rabble Rhouser cocktail, you can nibble on snacks like housemade jerky.
1905 Lounge at HGU New York
34 E. 32nd St., nr. Madison Ave. 212-779-3432. September.
This Nomad hotel opened in July in a landmarked 1905 Beaux-Arts building. The forthcoming lounge retains its old-world feel (the ceiling's been refurbished, as has the original marble fireplace) and offers craft beers and specialty cocktails incorporating fresh juices. Artwork is curated by Gallery 151.
The Spaniard
190 W. 4th. St., at Barrow St.; no phone yet. Mid-fall.
The group behind bartender favorite Bua and Wilfie & Nell hired design team Home Studios (the Wayland, Paulie Gee's, Sisters), so rest assured the décor will be excellent. Staff will deliver old standards like Gibsons and modern classics like the Penicillin to communal tables up front and leather booths in back; there's also food like steak tartare.
Unnamed Todd English Bar
At the Intercontinental, 310 W. 44th St., nr. Eighth Ave.; 212-803-4545. October.
Todd English (of Olives and "Page Six" fame) opens this drinks-focused lounge — his first project to place the spotlight on cocktails; many of these will use honey from the hotel's rooftop beehives.
Unnamed El Atoradero Mezcal Bar
706 Washington Ave., nr. Prospect Pl., Prospect Heights; no phone yet. October.
The team behind Mexican restaurant El Atoradero expands next door with a mezcal bar, inspired by those of Mexico City, that will serve agua-fresca-made cocktails and steamed tacos de canasta from chef Denisse Lina Chavez.
For Beer
Hop House
2224 Frederick Douglass Blvd., at 120th St. 646-858-0252. Just opened.
Affordable locally made brews and wine (beer from $7, wine from $8) and pizza are on offer at this 60-seat space, the former home of Bad Horse Pizza. It joins nearby Harlem Tavern and Bier International to form a group of beer-heavy spots in the neighborhood and plans to offer beer-education classes.
Kings County Brewers Collective
381 Troutman St., nr. Wyckoff Ave., Bushwick; 929-234-6557. September.
Bushwick's first brewery since 1976 comes via three alums from the Brooklyn Brewery, Rockaway Brewing, and Greenpoint Beer Works. Their 1,000-square-foot taproom will pour a dozen diverse beers, from tropical IPAs to sour beers infused with strawberries and guava.
Interboro Spirits & Ales
942 Grand St., nr. Waterbury St., East Williamsburg no phone yet. September.
After stints at New Jersey's Carton and Brooklyn's Other Half, Jesse Ferguson goes solo with this combo brewery-distillery carved from a woodworking shop near Newtown Creek. Tour the facilities where they distill citrusy gins and brew double IPAs, then repair to the 20-tap bar for a draft G&T, Long Island wine, or pint.
For Play
Elsewhere
599 Johnson Ave., nr. Scott Ave., Bushwick no phone yet. Mid-fall.
Those who've been mourning the 2014 loss of Glasslands — the music venue now home to Vice Media — can rejoice over Elsewhere, the team's new 24,000-square-foot performance-and-arts space one neighborhood east. It will have a rooftop bar and apparently will feel less disorderly than its predecessor.
Fishbowl at the Dream Midtown
210 W. 55th St., at Broadway; 646-756-2044. September.
A 5,000-gallon saltwater fish tank sits at the center of this subterranean bar, courtesy of Josh Held Design, he of neon-hued spaces like Marquee. When you're done ogling the 150 tropical fish, there's a full roster of activities including skeeball, mini-bowl, karaoke, and a photo booth.
And One Big Reopening …
Chumley's
86 Bedford St., nr. Barrow St. no phone yet. September.
Chumley's was 81 years old when a wall collapsed and forced it to close in 2007; since then, owner Jim Miller has been trying to figure out a way to reopen. At long last, he's joined up with the owner of Sushi Nakazawa, Alessandro Borgognone, who's hired a former Atera chef and renovated the interiors; onetime regular Willa Cather might not recognize it, but you will be able to get a stiff drink.
Drink at the Movies
Two new theaters where you can do just that.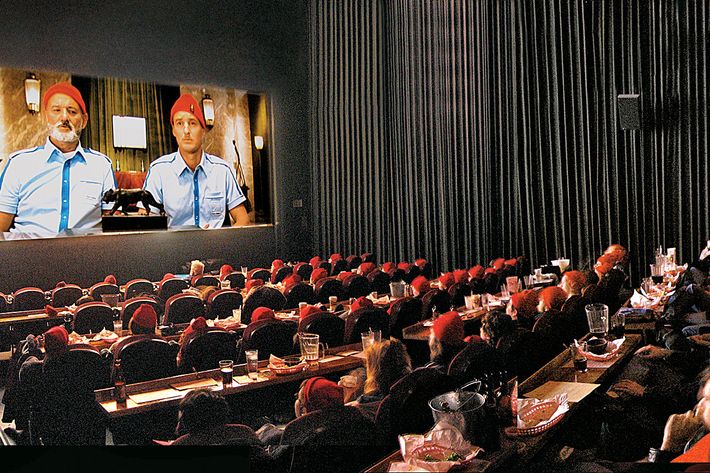 The Tuck Room at iPic Theater
Fulton Market Building, 11 Fulton St., at Front St. Early October.
The Movies: Plush reclining chairs, pillows, blankets, and call buttons for in-theater food service are all part of the iPic experience. The luxe chain is opening its first New York outpost with eight auditoriums showing major releases in South Street Seaport's renovated Fulton Market.
The Drinks: The beverage program of the attached speakeasy-style Tuck Room is designed by cocktail vet Adam Seger (the French Laundry, Chicago's Tru) and will include the classics as well as punch bowls and liquid-nitrogen-infused drinks.
The Cost: Tickets are $14 to $29 for premium or premium-plus seating.
Alamo Drafthouse Cinema Brooklyn
445 Gold St., nr. Willoughby St., Downtown Brooklyn; no phone. Fall.
The Movies: Finally, the Texas favorite comes to Downtown Brooklyn in the massive new City Point development, with a seven-screen theater showing a combination of indie films and new releases. Themed nights include Terror Tuesdays and Video Vortex (movies shot exclusively for VHS).
The Drinks: Cocktails, wine, and craft beer — 100 percent of which is brewed locally — as well as food from chef Fernando Marulanda, who will be cooking up jerk chicken with coconut-lime dressing and a "Williamsburger" with garlic aïoli.
The Cost: Prices vary, from $1 for the Video Vortex nights to $14.50 for new releases.
*This article appears in the August 22, 2016 issue of New York Magazine.