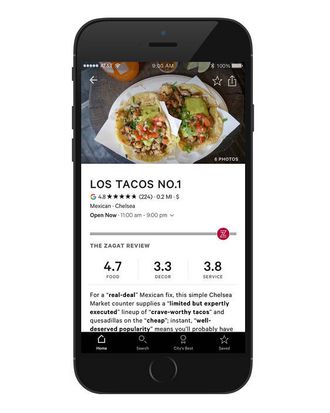 Good-bye, 27 for food.
Photo: Zagat
For as long as Zagat has been publishing restaurant guides, readers have had to ask themselves whether there's really a difference between food with a 21 and 22 rating. No longer. Google has expressed hostility toward Zagat's traditional rating system since acquiring the company in 2011, and now the longtime restaurant guide has done away with it. Today, Zagat introduced a redesigned app sans its most defining feature: restaurants rated on an unnecessarily broad range of 30 points.
Going forward, restaurants will be rated on a simpler five-point scale — though the rating will allow for decimal points. Google director of local content Laura Slabin promised the move "was not a flippant decision," no doubt understanding that restaurant nerds get really worked up about stars and ratings. However, some industry types tell The Wall Street Journal they fear that this change will somehow take the nuance out of a system that already reduces restaurant experiences to arbitrary numbers.