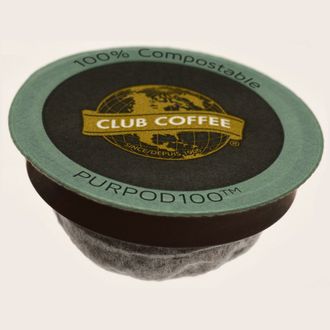 Allegedly disappears with nary a trace.
Photo: PurPod100
A Toronto-based company claims it's created the first-ever entirely compostable single-serve coffee pod. Dubbed the rather Jetsons-esque name PurPod100, it was developed by a big Canadian coffee distributor (Club Coffee) with help from the University of Guelph's Bioproducts Discovery and Development Centre. Instead of plastic, the pod uses a material made from dried coffee-bean hulls (sometimes called the cascara or chaff) that, with a few notable exceptions, companies generally throw out. There's also a fully compostable filter at the base. The whole design purportedly breaks down in about 84 days on average, and it's already been certified by the Biodegradable Products Institute, a nonprofit that bills itself as North America's "leading authority on compostable products."
Ever since Keurig and Nespresso popularized single-serve pods, critics have been blasting the things as the "ultimate design for unsustainability." Cities around the world have even started banning them. Consumers aren't nearly as enamored with the idea as they once were, but the PurPod nevertheless allows push-button coffee fiends a way to make their machines more envirofriendly than anything else has to date.
There is a catch to being avant-garde, though, which is that it's immaterial whether a pod is compostable if nobody's willing to accept it for composting in the first place. And so far officials in Toronto are unimpressed, having told the Globe and Mail last year, "It doesn't make a difference if the company claims their products are compostable or biodegradable, largely because there is no consistency of production across the industry market." Somewhat ironically, the city's biggest fear is that residents who use ordinary pods like, say, Keurig's own K-Cups — which up until recently weren't even recyclable — will think their spent pods are compostable, too, and dump them into the wrong bin, thereby "contaminating it."