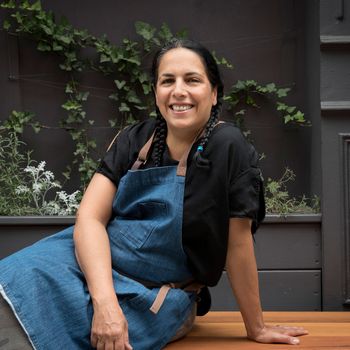 "When I opened Taïm, nobody did this food."
Photo: Liz Clayman
Since she moved to New York, Tel Aviv–born Einat Admony — the chef-owner of Taïm, Balaboosta, and Bar Bolonat — has harbored a craving for real couscous. The kind of couscous few Americans have ever tasted. You see, what's most commonly served at restaurants (even well-respected ones) is actually instant couscous, because the authentic dish take three hours of labor-intensive work to prepare. But Admony thinks the time is right to offer Americans the real thing, which is why she'll make it the focus of her next restaurant, called Kish-Kash. She recently held a preview dinner (which Grub attended) and is aiming for a late-2016 opening date.
It's been more than a decade since the chef launched Taïm, her fast-casual falafel joint, but with the rise of chefs like Mike Solomonov and Alon Shaya, Israeli food's never been more popular in America. Not one to get left behind, Admony's also planning on finally expanding Taïm, not just in New York but around the world. After the abrupt closing of Combina in May, after only six months, she's learned a lot about how she wants to structure her mini-empire. Here, she explains:
What inspired the idea to start a couscous-centric restaurant?
It's really one of my favorites dishes — mafrum with couscous. Being here for 17 years now, I've realized you cannot find this kind of food, and I have this craving. I'm always waiting for somebody to come here and do this food, and then I realize that's not happening. I should just do it.
How have Americans messed up couscous?
Basically, the reason that you don't see real couscous is because it's very labor-intensive. It's not that hard, I think, but it requires some technique with your hands — the way you roll it and the way you add water slowly. And then you need equipment, so you need a dabba. You need a couscoussier, which is the double pot. Then you need the kish kash, which is like the sieve, you know, that you pass the couscous through. It's a hard thing to do. People like shortcuts, which results in five- or ten-minute couscous.
This is so much fluffier and finer. I've never eaten anything like it. It takes three hours, yes? Can you walk me through the process?
Yes. You start with a little bit of canola oil, and you roll it all together so it's set right. Then you put a little bit of warm water. Not hot. Room temperature. And salt. And then you pass it through the tamis [a drum sieve]. It's a special tamis with maybe two- to three-millimeter holes.
You put it on the couscoussier [a double-chambered food steamer] for around 40 minutes; then it's really hot, so now it can absorb much more water. You put it in a big, big bowl, and then you add about three cups of water, but very slow and on your hands. Then roll it and mix it very well — try to break all the chunks and let it set. Now the couscous is absorbing all the water, slowly, and begins to expand. And then you pass it through again. I do it two or three times. What's also very important is the quality of the semolina.
Where do you buy your semolina?
Holyland. It's an Israeli grocery store on St. Marks.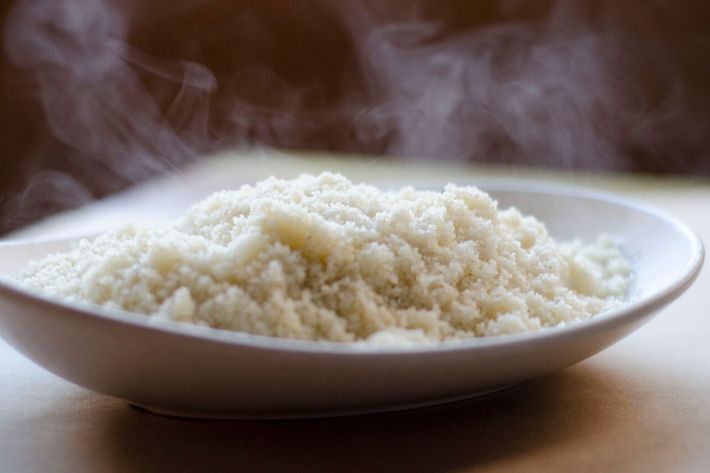 How will you structure the restaurant? Will it be sit-down or to-go?
Both. I'm looking for a small place that has two functions. One is a big table that's communal. It's funny because I was always so against communal tables. I thought it was like a stupid idea — if I go out with my husband and have a babysitter for my kids, I don't want to sit with other people. I don't want to hear some cheerful girl talking about bullshit. So even though I always thought that communal tables were kind of annoying, I think that for this concept they're just perfect. Because the whole concept is about North African Jewish cuisine that reminds me of Shabbat dinners in Israel.
I'm also going to have takeaway food. You don't need to wait 20 minutes for your food. It's food that has been cooked already. We'll have it on a low flame, on a special kind of heater.
And for the toppings?
Basically, it's going to be like six dishes, with a lot of different condiments. And I'm thinking I'll also do a gluten-free couscous made out of corn. We'll have a chicken tagine with dried fruits, a mafrum — ground beef stuffed inside potatoes, and fish brined in sauce. Another thing that we're thinking about is to keep the meat kosher.
It's such a labor-intensive dish. Does that concern you?
With this concept, you actually don't need cooks. You need just prep people in the morning and it's done. One of the harder things in this business right now is finding cooks — professional people who you can pay well enough that they want to stay with you. I love that I don't need cooks with this concept.
That also makes it more economical.
Yep. I don't want the food to be expensive. It's so funny, because with every restaurant I open I say, "I want everybody to come." I don't want to make food for rich people. But then when you're in New York, it's so hard to actually follow, because your rent is outrageous, and then there are a million different laws that create expenses. For $20, I want people to be able to get "couscous complete," as we call it in Israel. You have the couscous, the protein, three salads, all of it.
Where and when are you aiming to open?
In the West Village or Chelsea, ideally. West Village neighbors love me, and I love them. They've known me for 11 years. Probably November or December, but you know how it goes.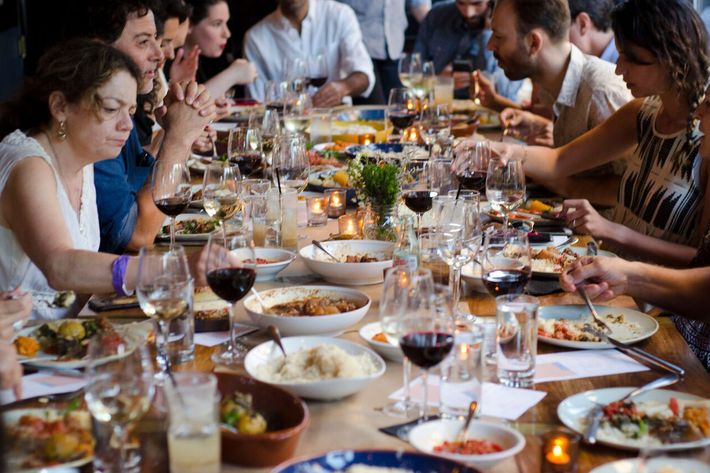 Combina closed after only six months. What did you learn from that experience?
I had a lot of hope for Combina. I thought it would be a great location. Everything looked so promising. Sometimes things change. The rent was not easy. The location was not as easy as it looks. Maybe it's the toughest location in town. We didn't have enough money to keep it going, and we were scared. I think one of the smarter things is to know when to leave. Because chefs all have a lot of ego. It's very hard to let go.
Many others would have tried to rebrand it.
Definitely. We tried new things, but I didn't want to try things that would make— I have a reputation. I have good restaurants. I have good followers. It's very tricky. It's not going to look good if I change the whole concept and the food. Also, the kitchen was very, very challenging. There was no basement. I learned a lot.
How big of a financial impact did it have on you?
It wasn't that bad, I have to say, because we had investors. We did an auction and sold a lot of stuff. But it had a big impact on the investors, unfortunately. But I wish it was all my money. Seriously. I know all the investors — a lot from Mexico City — and they all have money as well, but it's so hard to fail for somebody else. It's not as easy if it's not yours.
How does it feel to see Israeli cuisine be so popular, and perhaps trendy, right now? Restaurants like Shaya and Dizengoff are getting a lot of attention. Does it bother you?
A little. Not "bother," really. In one way, I'm very, very happy. It's great for me. In another way, all these chefs used to make fun of me making falafel 11 years ago, and now, since it's trendy, they're all jumping on the horse, you know? I'm getting old and the bullshit only tired me, so I'm trying really to concentrate on myself.
I do think Mike Solomonov is incredibly talented. But some people act as if they've never tasted hummus before.
Because it's him. If somebody else would do that, trust me, there wouldn't be this hype. That's the thing.
Taïm's business model seems poised for expansion. Why are there still only two locations?
That's what we're discussing right now. Good things take time. It was very hard at first: We're not businesspeople, my husband and myself. We are passionate restaurateurs that are really attached to our places. I could've gotten very, very rich three years after I opened Taïm. We never cared about that.
You could probably turn Taïm into Chipotle.
Of course. Now I'm ready. We didn't want to sell too much back then. A lot of people offer us a crazy amount of money to buy it. I could be retired now, but I didn't want that. But now we're talking to a group, and it seems like it's happening now.
How many locations of Taïm do you want?
I'm very ambitious. I want a lot.
Outside of New York?
Yes. First, L.A. I love L.A. Then Chicago. I love Japan. I want to be in Australia. We'll see. My idol, obviously, is Danny Meyer. We've been in touch with his whole group. I'm excited.
You're also starting Taïm chef collaborations this fall, right?
Yes. Every month, beginning in September, we'll have a new falafel flavor. We've got Mario Batali, Bobby Flay, Elizabeth Falkner, Fany Gerson, Jessica Koslow, and one blogger, Molly Yeh.
Do you feel like running a restaurant in New York has become exponentially harder?
It's impossible now.
Why more so than six years ago, when you opened Balaboosta?
Everybody wants to open a restaurant. Everybody, not just chefs. There is so much more competition. When I opened Taïm, nobody did this food. I'm sorry. Nobody heard about Israeli food when I opened Balaboosta. It just started. There was nothing to compare. Now there is so much competition that you need to keep being relevant nonstop. It's not about the food anymore, which is the hardest thing for me.