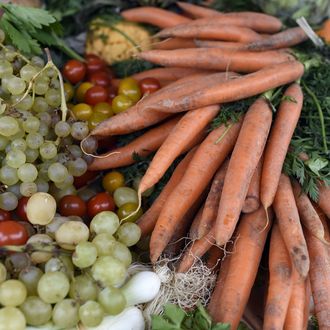 Don't judge a veggie by its cover.
Photo: Miguel Medina/AFP/Getty Images
In March, Whole Foods agreed to sell misshapen produce in order to help combat America's food-waste problem. The plan wasn't entirely the grocery chain's, however — by then, a Change.org petition calling the company out for tossing cosmetically defective produce had amassed 111,000 signers. Now the creators of that campaign, called #WhatTheFork, are targeting the wasteful practices at Walmart, the country's largest grocer, with a separate petition that's rapidly closing in on 150,000 supporters. "We were successful in petitioning Whole Foods Market to sell ugly produce," the group's founder, Jordan Figueiredo, encourages the page's visitors. "Now we are asking you to call on Walmart to join the movement against food waste by agreeing to sell cosmetically 'less than perfect' produce."
The petition goes on to rip Walmart for basically being behind the times:
We want Walmart to combat food waste by marketing ugly produce with an educational and fun campaign like the French supermarket giant Intermarche did with its "Inglorious Fruits and Vegetables Campaign." Stores in Europe, Australia, and Canada have seen success selling not quite "perfect" produce, offering it at an average of 30% off, and it has increased store traffic and total sales. In the

U.S.

Raley's has completed a successful pilot selling ugly produce, Giant Eagle has just started a pilot and Whole Foods will start one

soon.
On Wednesday, Figueiredo is traveling to Walmart headquarters in Arkansas, where he will hand-deliver the 143,000 signatures collected so far. He figures the inventor of "rollback prices" might see logic in selling odd-looking fruits and vegetables at a 30 to 50 percent discount, which he claims is the going rate these days for uglies. Walmart actually surprised people last month with news that it was requiring food suppliers to put universal best-by labels on packaging, so customers wouldn't toss out stuff prematurely. It also started stocking so-called Spuglies, a form of ugly Russet potatoes, in Texas.
Goaded into it by #WhatTheFork or not, Walmart actually said in a blog post last week that it's working out the details, offering this kind of backhanded compliment to its U.S. shoppers: "Because customers around the world shop very differently, our team here in the U.S. has been working for months on our first spec for this type of produce. We're exploring the ways to make these items available while providing value to our customers and supporting farmers."