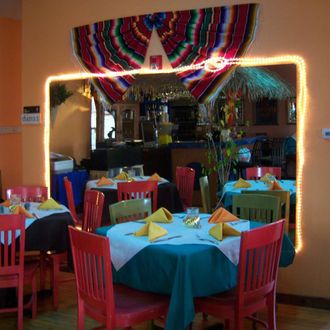 Trump supporter Esther Levy was asked to leave the Cancun Inn.
Photo: Cancun Inn/Facebook
Another restaurant has been accused of refusing to serve supporters of presumptive Republican nominee Donald Trump, this time in upstate New York. Donning her "Make America Great Again" hat and a Trump button, Esther Levy dropped by Sugarloaf restaurant the Cancun Inn with retired local judge and fellow Trump supporter Alvin Goldstein. But after ordering a couple of drinks from their waitress without incident, Levy — who says she patronized the restaurant for a quarter-century — was told they'd have to leave. The reason, she says, was made very clear: A man identifying himself as a co-owner, she tells the New York Post, told her, "We don't serve Trump supporters here. Get out of here and never come back." An undeterred Goldstein took the opportunity to predict a Trump victory on his way out.
After Levy posted about the incident to the New York for Donald Trump 2016 page, the Cancun Inn's Facebook page was bombarded with angry responses from Trump supporters on Facebook and, of course, a slew of one-star Yelp reviews. The restaurant's owners aren't denying that Levy and Goldstein were kicked to the curb, just that their support of Trump was the reason. In a message posted to the restaurant's Facebook page, co-owner Israel Campo, through his son Chris, wrote that Levy and Goldstein were asked "to leave because they were being rude to the staff and rowdy due to intoxication."