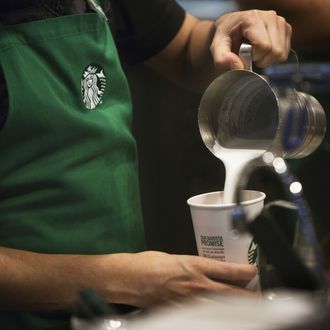 Maybe leave the "expediting" to UPS.
Photo: Victor J. Blue/Bloomberg via Getty Images
Starbucks sort of pulled a fast one last week when it announced baristas would receive a surprise pay raise. This October, wages will still climb at least 5 percent at company-run stores, and veteran employees will still get new and improved stock benefits, but the increase is also magically canceling out the annual raise Starbucks gives employees. CEO Howard Schultz left this fine print out of his open letter to disgruntled employees, but after some prodding, a rep has clarified to BuzzFeed that the raise is, in fact, "an expedited wage increase for fiscal 2017," meaning "there will be no additional increase in January."
Suffice it to say baristas aren't thrilled. They used to get two merit-based raises a year; recently, that's morphed into just one — and now, this. The employee behind the "Lack of Labor Is Killing Morale" petition that essentially took the wage issue public in the first place told BuzzFeed it's disappointing but not necessarily unexpected news, adding: "Typically, when Starbucks gives something, they take away something else." Workers were dubious right away, asking on social media if October's raise really was in addition to their regularly scheduled pay increase, or more of the sleight of hand baristas claim they've experienced before. Another irony they picked up on is that the raise might not exceed the nation's living-wage increases concentrated in cities that tend to have lots of Starbucks locations anyway.
But, on the bright side, it seems Starbucks still plans to update the dress code exactly as Schultz promised in his letter, and the value of potentially wearing jeans and rocking green hair on the job is arguably priceless.