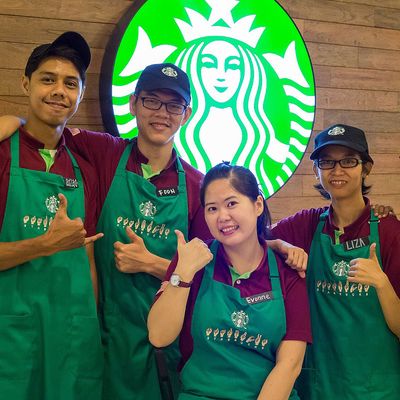 Just hanging loose at the 'Bucks.
Photo: Starbucks
Starbucks has just announced what could be a first among all of the big chains: It's opening a café dedicated to employing deaf baristas. The store, located in the suburbs of Malaysia's capital, Kuala Lumpur, has hired a team of ten hearing-impaired individuals who will work alongside three hearing staff. Because it's also got a pretty cool wall sign at the entrance spelling out "Starbucks" in manual hand signs, the café is fairly unambiguous about what customers should expect, but the ones who don't know sign language can just place written orders.
Customers can also double-check their orders on a screen as they're entered into the point-of-sale system; each customer is then assigned a number that flashes above the bar when their drinks are ready. The company partnered with Malaysia's Society of Interpreters for the Deaf to provide two sign-language interpreters to help train workers. They're also sticking around to teach sign language to staff at the store who don't have a hearing disability.
And just like that, Starbucks has solved its age-old problem of cup misspellings and lame fake names ("Trump," "Diabetes Here I Come," etc.) all at once.