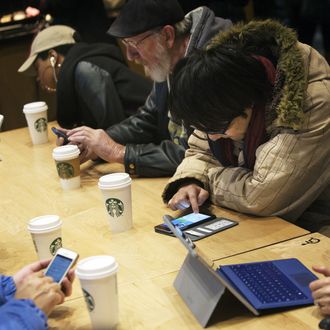 Hope you're all here to watch cat videos.
Photo: Victor J. Blue/Bloomberg via Getty Images
Bad news: Your brazenly public porn-viewing days at the local Starbucks are now numbered, too. After it came out last week that McDonald's started blocking porn on its free Wi-Fi months ago (maybe a sign of how often anybody there tries to watch it?), the group that was pressuring the burger chain to add internet filters, Enough Is Enough, saw an opportunity to remind people that Starbucks hadn't complied yet, either, despite two years of requests. The company reportedly never responded to the nonprofit, but it now tells CNNMoney that, coincidentally, the time for filtering has come: "Once we determine that our customers can access our free Wi-Fi in a way that also doesn't involuntarily block unintended content, we will implement this in our stores," a spokesperson says. "In the meantime, we reserve the right to stop any behavior that interferes with our customer experience, including what is accessed on our free Wi-Fi."

Starbucks previously said it wasn't really aware of people watching porn inside its cafés, which might be true, but the chain's not exactly batting a thousand on vigilantly monitoring every activity that goes on in its stores.