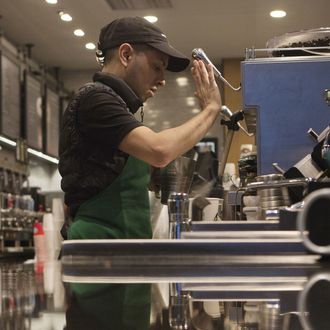 Cha-ching.
Photo: Victor J. Blue/Bloomberg via Getty Images
Starbucks has responded to complaints of languishing workplace morale by announcing a surprise pay raise. Most employees will see their base pay jump at least 5 percent in October, depending on what region they work in and other economic factors. Plus, workers who've been there for at least two years will get new and improved stock benefits, meaning that overall compensation will climb by as much as 15 percent for certain barista vets. The only employees getting this raise are the ones at company-owned stores, though, leaving out roughly 40 percent.
As CEO, Howard Schultz has shown his melodramatic side before, so maybe it's not surprising that he kicks off an open letter to employees by tying Starbucks wages to the deaths of Alton Sterling and Philando Castile and the massacre in Dallas:

While trust in America may seem to be fraying, I do believe the majority of Americans recognize our shared humanity and strive to ensure that respect, civility and compassion rise above the alternatives. Trust, after all, must be earned one human connection at a time.

Perhaps I am sensitive to this because earning your trust as partners has always been a foundational principle for

me.
To earn that trust, employees will get a raise. There will also be an attempt made to "address scheduling," the chaos of which was the main reason 12,000 people so far have signed a Coworker.org petition called "Lack of Labor Is Killing Morale." Schultz says employees have his "personal commitment" that the company will "make every effort to help you meet your specific scheduling needs, especially when it comes to ensuring your benefits eligibility going forward."
About the pay raise, a spokesperson explains that technically workers were due this increase in October 2017 anyway, so when it arrives this October, it'll be like getting paid next year's wages early. Starbucks usually ups worker pay twice a year, though, and the rep didn't clarify if this early raise will have any effect on the one workers bank on at the start of every year.

Most of America by now also seems aware of Starbucks's internal reputation for being draconian about the dress code (tats — nearly ubiquitous among baristas these days — had to be kept covered for years). As sort of a final gesture, Schultz adds they've heard worker requests for "more freedom when it comes to bringing your 'whole self' to work," and figure Starbucks will probably still sell just as much coffee if the dress code gets loosened a tad. Exactly how they'll do this is going to remain a mystery until late July, at which point the company will make a big announcement at an employee meeting. Schultz does tease that whatever the changes are, they'll "work well with the green apron" while also allowing baristas to choose from items "that may already be part of your everyday wardrobe."