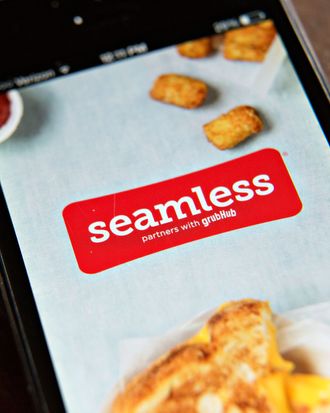 For now, the new rankings will be visible via the company's web interface.
Photo: Daniel Acker/Bloomberg Finance LP/Getty Images
There's another development in the ongoing battle for food-delivery dominance: Today, Seamless is rolling out new features that allow customers to evaluate restaurants based on how fast, accurate, and delicious their delivery is. Previously, the service only offered an "overall experience" ranking of up to five stars, but users will now see scores — from 1 to 100 — for each of the three new metrics.
The new scores are based on research that's been going on since December, when Seamless began asking simple yes-or-no questions on those three metrics, as in "Was your order correct?" The company says it hopes to help customers who may have less than five free minutes to make a more informed decision. Seamless, by far the largest player in the online delivery space, also hopes the new grades will set the company apart from the many tech-y competitors that have launched in recent years and likely contributed to a decrease in Seamless's growth in the first quarter. Seamless's senior vice-president of product, Sudev Balakrishnan, says this new trove of data (Seamless has collected nearly 7 million responses in the six months it's been asking the yes-or-no questions) shows just how far reaching the company's service is. "We are the only ones who do this at this scale. Our innovation positions us as being a leader in this space."
In fact, in looking at the ratings — which for the time being can only be viewed via Seamless's web interface, not the company's mobile app — have already revealed a few things about New York's restaurants: The fastest are Ten-Tan Chinese Restaurant in the Bronx and a Thai restaurant called Chaamlex in Manhattan. The best "food quality" goes to Luke's Lobster and Williamsburg Pizza, and the most accurate spots in town are Garden Café and Arturo's Pizza.