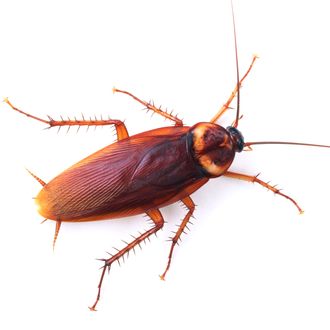 Does it come in skim?
Photo: Dorling Kindersley/Getty Images
Wonderful news, everybody: Scientists say milk from the world's only species of lactating cockroach is showing real potential as a thing humans can ingest. The Diploptera punctata, or Pacific beetle cockroach, as this freaky bug is known, gives birth to live young instead of laying eggs, and a team that included researchers from India, Japan, France, Canada, and the NIH here in the U.S. has discovered that the momma roach's milk secretions actually are a "fantastic" source of nutrition, as they contain "all the essential amino acids" and supposedly more than three times the energy a person can get from cow's milk. Each individual milk crystal is basically a fully balanced meal unto itself: To quote one author of the study, which ran in the journal IUCrJ, "The crystals are like a complete food — they have proteins, fats, and sugars."

They are "very stable," too, and release their nutrients at a steady, slow rate, which makes cockroach milk pretty much an ideal protein supplement. Best of all, now that the researchers have mapped the protein's gene sequences, it's possible to enjoy a roach-milk smoothie cruelty-free: You don't have to "go and kill lots of cockroaches," a chemist explains. Instead, the roach proteins are simply "expressed," then "grown" in a "yeast system" that's stored in "very large microbiological vats." Yum.