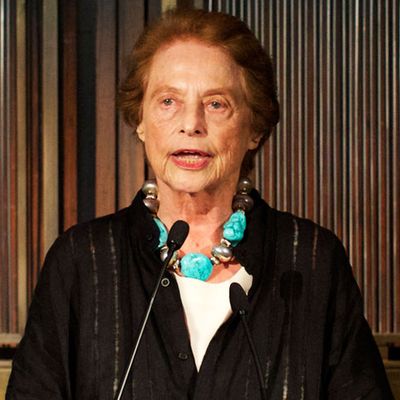 Without any notice or planning, she gave a speech at the auction's preview.
Photo: Clay Williams for NYMag.com
After 57 years in business, New York's historic Four Seasons restaurant is closed. During its run, every single president — with the exception of Richard Nixon — dined there, along with a small army of famous regulars. Yet the person who perhaps contributed to the restaurant's success more than anyone else is food writer and former New York Times restaurant critic Mimi Sheraton. Before The Four Seasons even opened in the summer of 1959, she was there, working as a consultant, specifically focusing on menu research. "It looked like the stage set for Armageddon," she says. "It was all concrete blocks and gray and cement and just tangles of hanging BX cables and electric outlet boxes all over the floor. You had to watch out so you didn't break your neck. That was obviously before the installation of the décor, so it's interesting now to see the last days when the shell remains."
Today, after Wright's auction of the restaurant's mid-century furniture and tableware, the Seagram Building's landmarked shell — arguably the most iconic restaurant space in all of New York — will be all that's left. The Philip Johnson Associates banquettes are estimated to sell for $1,000 a pop, with the exception of table 32, favored by both Johnson himself and Princess Diana, which has a starting price of $3,000. Sheraton, who attended the auction's preview last week, has her eye on a 12-piece set of porcelain plates adorned with the Four Seasons tree motif, estimated at $200 to $300. "I hope my arm falls off if I raise it to bid on anything, because I have a house full of tchotchkes and enough dishes to serve 150 people without washing a plate," she says. "But I may get the bug."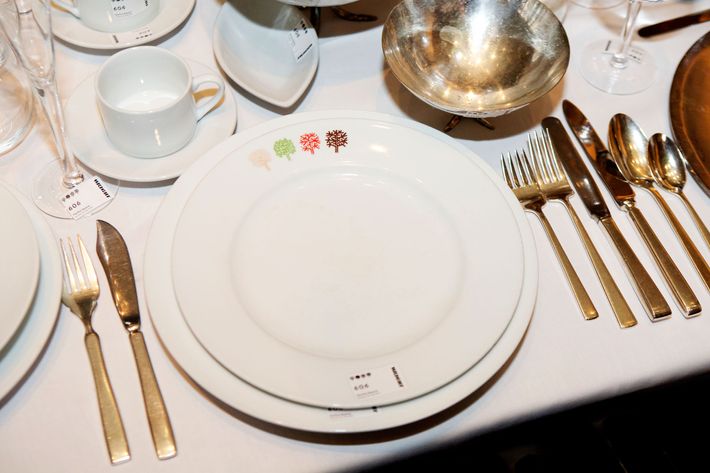 If anyone deserves a literal piece of the restaurant's history, it's Sheraton. As she says, bluntly, "There are so few people from the original creation who are alive — that we can find alive." Sheraton's work as a consultant is actually coming full circle: She's advising the trio behind Carbone, Dirty French, Parm, Santina, and Sadelle's — known as the Major Food Group — who will take over the space and open a $30 million restaurant with a new name in 2017. ("They're thinking about doing a seafood theme in the Pool Room, and I thought, They could stock it with fish and have people fish for their dinner," Sheraton jokes.) But still, Sheraton is understandably sentimental about the restaurant's closure.
The mood at a media preview for the auction felt somber: Longtime co-owner Julian Niccolini teared up while giving a speech about the value of the objects, like he was attending his own wake. Over the years, his relationship with Sheraton has been a bit contentious, as she's publicly badmouthed the food (she recently called it "a pity"). So it came as a total surprise to her when he summoned her to the stage, asking her to share her memories. In turn, she attached meaning to even the most mundane of objects.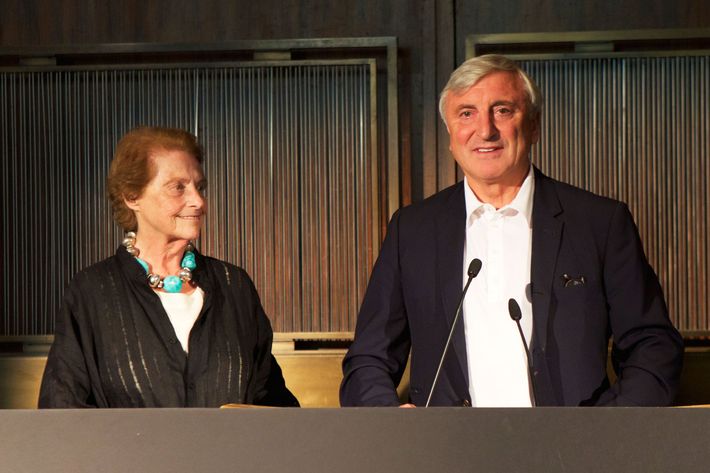 "I learned how to be a restaurant critic by working on this restaurant," Sheraton told the small crowd of journalists (including architectural critic Paul Goldberger). "By seeing how it was put together, I learned how to take a restaurant apart. It took Joe [Baum, the original owner] two weeks to choose the kind of black pepper that would be on the table, and another week to decide how fine it would be ground. There were no pepper mills here — there were the little shakers that you can now buy."
Later, when reflecting on her impromptu speech, Sheraton said, "I did get a rush. It just suddenly came over me that I was telling all of these people about what in my life was a very great time, and a very great learning experience. There are certain experiences I've had that I have drawn on all of my life. It was pivotal."

Change is imminent in the storied space — and even welcomed by Sheraton, who's particularly excited about the new menu. She thinks the style of furniture and the configuration should stay the same, though, and notes that almost all of the furniture being auctioned off is still produced today — like the Ludwig Mies van der Rohe Barcelona chairs. If anything, there's actually an opportunity to make the restaurant feel more authentic to its 1959 roots. Sheraton noticed that the Hans J. Wegner chairs, on the mezzanine of the Grill Room, had been "very badly redone" — a "colossal mistake."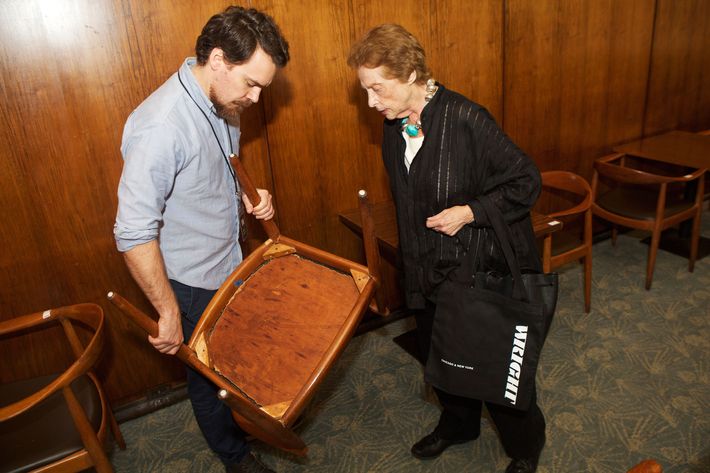 Fortunately, what will always remain is the light in the room, which still makes Sheraton feel nostalgic for the restaurant's early days. "I would stand on the stairs — the south stairs to the mezzanine — at 11:40," she says. "I would just stand there for a minute and think about what was about to happen. It was that pregnant moment: In 20 minutes, people are going to start coming in — one will come to the bar for a drink, one will look around to see who else in the room is important enough to acknowledge. I don't know which poet wrote about the airy footsteps of the things that almost happened, but I used to think of the airy footsteps of the things about to happen. Because people came here not only to eat. They came here to be hired. They came here to be fired. Love affairs were begun, and marriages ended. So I felt a vibe in the air that was very, very exciting, and that was a beautiful time, because no matter what the season, the light used to come in one way or another."