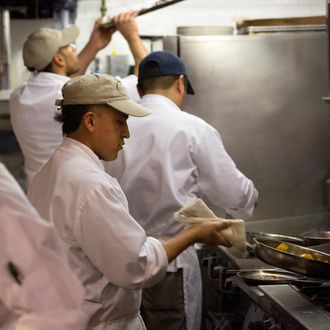 Hard at work, naturally.
Photo: Scott Eells/Bloomberg via Getty Images
San Francisco has America's most Michelin stars per capita and was the second city to pass a $15 minimum wage — two reasons it's highly sought after by people in the restaurant industry. But a new report by the workers-advocacy group Restaurant Opportunities Center could really rough up this glowing reputation: Surveys filled out by 525 Bay Area workers reveal that a serious pay gap is plaguing minorities in the city.
The study was meant to be a comprehensive look at issues facing the city's restaurant workforce, and of course it found the usual problems (wage violations, pay stagnation, the bane of sky-high rents). The surprising discovery, though, was the disparity between white and nonwhite workers' wages: ROC says the city's worst offenders are "fine-dining restaurants" (defined as places where the average tab was more than $40 per person). At these spots, women on average made $3.34 less per hour than their male counterparts, which is troubling enough, but the gap for minority workers was almost twice that. They collected $6.12 less per hour than white workers.
ROC says that's the largest race-based pay gap it's aware of anywhere in the country. San Francisco restaurateurs mostly blame it on the inherent wage differences between front- and back-of-house staff; because servers get tips, they'll sometimes pull in two to three times as much as kitchen workers, a much greater percentage of whom are minorities. The cruel irony is that San Francisco's restaurant-industry pay is the highest in the U.S., partly because the city's wage laws are so progressive in general. And the report notes a pay gap isn't all that's handicapping minority workers: "In particular, we found that occupational segregation, wage violations including misappropriation of tips and service charges, and inadequate access to housing were all severe and had a disproportionate impact on workers of color."