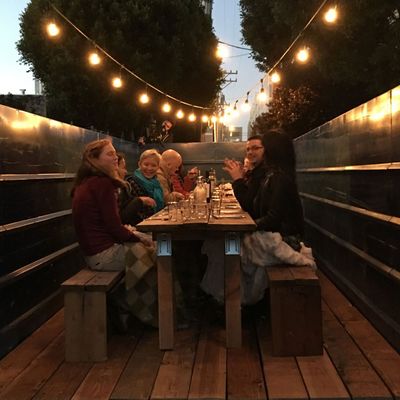 The ambience experienced by San Francisco's guests.
One person's trash is another person's multi-course, veg-forward tasting menu. That's the idea behind Salvage Supperclub, a New York–based group that hosts a Dumpster-dinner series. It's for a good reason: Founder Josh Treuhaft and his recycled-trash meals represent what you'd call the more extreme end of the growing movement to stop Americans from wasting such an embarrassing amount of food.
NPR sent a writer to the group's most recent pop-up, which occupied a blue roll-off on a dead-end street in San Francisco's SOMA neighborhood. Here's the list of ingredients still recognizable enough to identify:

On tonight's menu: Wilted basil, bruised plums, past-their-prime tomatoes, vegetable pulp, surplus squash, whole favas (we're talking even the tough outer layer), garbanzo bean water, dairy whey, sweet potato skins and overripe, peel-on

bananas.
The bananas' "scent of rot" was hard to get past, but the reporter goes so far as to call everything else "finger-licking good." (Let's hope there was complimentary Purell.) The dishes — fava-corn-lettuce soup, ratatouille, veggie sliders with potatoes — were items that "modest home cooks might actually make," which makes sense, considering they were prepared with ingredients that modest home cooks bought and then threw out. That's the whole point: "The idea … is for eaters to see the incredible potential many of us fail to see in our food," Treuhaft says — to "broaden the scope of what is edible."
The group has also met in Dumpsters in Brooklyn and Berkeley, and NPR suggests the series continues to be a success. Runoff from canned chickpeas and cocktails mixed with melon seeds aren't everybody's thing, but Salvage's chef Pesha Perlsweig thinks they're changing diners' outlooks little by little: "It makes me happy to hear that a former guest made carrot top pesto or was inspired by a dish of mine. Change is hard. If I can move the dial, however small, in the right direction, then I feel like I've done my job."