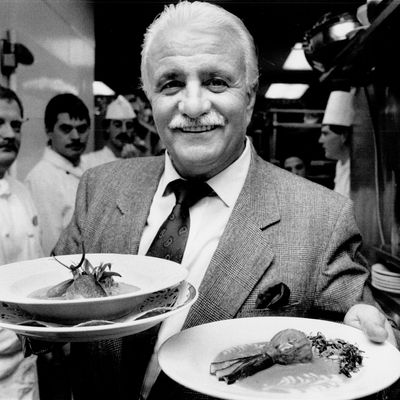 Roger Vergé doing his thing back in the day.
Photo: Eglinton; Rick/Getty Images
Roger Vergé was one of the 20th century's most important chefs, an early proponent of nouvelle cuisine who helped bring provincial Mediterranean ingredients to high cuisine and invented the very idea of a celebrity chef. He also trained a litany of great chefs before retiring in 2003, and now some of them are coming together to honor his legacy with a tribute dinner. Scheduled to go down on September 12 at the Lighthouse at Chelsea Piers, the dinner will be led by Vergé mentee and culinary icon Daniel Boulud.
As the event's "chef chair," Boulud was tasked with bringing in significant chefs who've worked with or had a unique relationship with Vergé. He's delivered a lineup of 16 chefs that features many legends in their own right, including David Bouley, Emeril Lagasse, Michael White, Francis Mallman, and Dean Fearing. It's certainly a unique occasion, and it's exceedingly rare for this much culinary talent to gather over the same set of stoves. Tickets are limited and, accordingly, cost a steep $995, with a Champagne toast and wine included. Yes, the price is high, but it's all for a good cause: Proceeds will fund a Roger Vergé scholarship at the Culinary Institute of America.