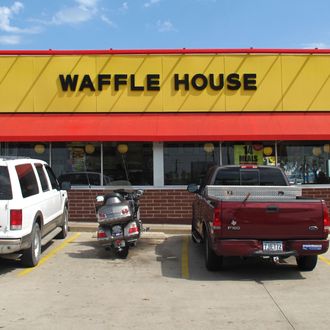 Everything's bigger in Texas, including robbery weapons.
Photo: Matthew Rutledge/CC/Flickr
A man in Texas is on life support after attempting to rob the wrong 24-hour southern restaurant chain in the wrong state. Police say Antione Cooper carried an AK-47 into a Dallas-area Waffle House last Thursday and started holding everybody up at gunpoint. He robbed several customers and took cash from the register, before exiting into the parking lot.
But Cooper was followed out by one of the diner's probably 13 customers, minimum, who were legally armed at that very moment. This man's wife was due to arrive any minute, so he went and called out to Cooper, who reportedly turned and pointed the semiautomatic rifle in the man's direction, prompting him to shoot Cooper "several times." Police found him lying in the parking lot with multiple gunshot wounds, and took him to the hospital, where he's been ever since. Expect this Waffle House–loving handgun owner to be heroicized in the chorus of a forthcoming Sturgill Simpson/Stephen Colbert song.