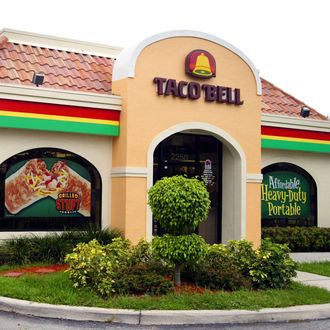 Going to take more than E. coli–free Quesalupas.
Photo: Joe Raedle/Getty Images
Suffice it to say Chipotle's latest quarter was not a win for the still-beleaguered burrito-maker. It announced Thursday that sales tumbled yet again — this time down 24 percent compared to the same period a year ago. Quarterly profits also fell to $26 million, down from $140 million before the massive E. coli health scare (which has been internally rechristened "the incident").
This news wasn't surprising: It's the third straight quarter the company's sales have dropped. What was unexpected, though, is the fact that not only have rivals failed to capitalize on Chipotle's myriad misfortunes, but they're actually doing worse than they were before those troubles started. Taco Bell tried hyping a Quesalupa, its "biggest food creation yet," and foisting chicken taco shells on the public. And yet same-store sales fell one percent this most recent quarter, partly thanks to a decline in the number of customer transactions.
Meanwhile, Qdoba has courted wary Chipotle-holics almost relentlessly, even tweeting a pic of a burrito with the words "Hunger doesn't accept rain checks" on the day Chipotle closed for its big employee food-safety meeting. But, today's Times points out, the rival now says promos specifically created to attract Chipotle's customers ended up hurting margins. Qdoba parent company Jack in the Box explains that Chipotle's multiple burrito giveaways set off a race to the bottom: "When we took a look at what was happening at one of our major competitors in the fresh Mexican grill space, we didn't want to have the promotional activities we were seeing from that major competitor negatively impacting the Qdoba brand."
The other good news for Chipotle is that the company's brand-new loyalty program actually helped increase foot traffic among frequent customers by 90 percent in the last month. That's got to be distressing for the competition, which, if Panera Bread is any indication, has now resorted to explaining away the situation with really big words: "The materiality of what's happened to Chipotle's sales is quietly de minimis in the context of any one restaurant company's business."