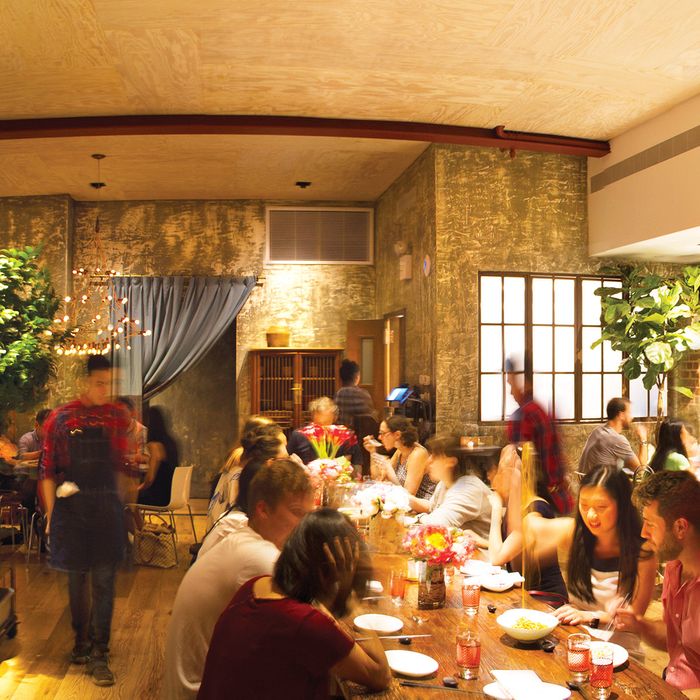 Hao Noodle and Tea by Madam Zhu's Kitchen.
Photo: Tirzah Brott/New York Magazine
Before you taste the impressive variety of regional soups on the menu, or the subtle variations in texture of the housemade noodles, or the perfectly executed dome of shrimp fried rice, what you notice about Beijing restaurateur Zhu Rong's first-ever restaurant in the USA is that it doesn't really look like a Chinese restaurant at all. At least not in that familiar, time-honored, slightly hackneyed way New Yorkers have grown used to over the decades. There are no murky tanks filled with gasping, half-expired fish in the dining room or auspicious golden dragons capering along the walls. There are no hassled, faux-antique lamps hanging from the ceiling, either, or stacks of clattering teacups on the tables, or brusque Cantonese (or Fujianese) waiters rushing to and fro in their rumpled white coats.
On the contrary, the somewhat torturously named Hao Noodle and Tea by Madam Zhu's Kitchen, which landed in our midst last month among the jumble of anonymous storefronts on lower Sixth Avenue in the West Village, looks suspiciously like a classic post-millennial New York restaurant, albeit one that has been refracted, like so much in modern China, through a uniquely contemporary, rapidly westernizing sensibility. The bar up front, appointed with potted plants, serves mocktails and oolong tea. The wait staff are dressed in denim butcher bibs over shirts patterned in Bushwick gingham, and the tables are set with clean, modish porcelain from Beijing designer He Jun. There are jars of fresh-cut peonies scattered here and there, and on busy evenings the room fills not with English, or even Cantonese, but with the mellifluous sounds of Mandarin Chinese. The city has been awash in creative new Chinese restaurants lately (Danny Bowien's Mission Chinese, Jonathan Wu's Fung Tu, La Chine in the Waldorf Astoria), but unlike any of these talented chefs, Zhu Rong, who actually grew up in China (she's from Sichuan and operates a string of successful restaurants in Beijing, Shanghai, Hangzhou, and her native Chongqing), has a keen understanding of the country's evolving, Pan-regional tastes. Order the perfectly shaped steamed bao-dze at this impeccable little establishment, and you'll find that they're filled not with the usual pink sweet Cantonese char siu but with little bits of stir-fried pork belly. There are two varieties of Sichuanese cold chicken appetizers on the carefully edited menu (one "Le Shan" style in a wet chile sauce folded with chicken stock and peppercorns, the other with dry chiles, star anise, and curls of dried orange peel), and the noodle section reads like a greatest-hits tour through the stands of Chengdu, Shanghai, Guangzhou, and Taiwan.
"I'm going to bring my mother here for her birthday," said a sophisticated Shanghainese friend of mine, as we examined a tangle of soft, chewy noodles dressed, like in Shanghai, with dried baby shrimp, soy sauce, and scallions. The chefs in Madam Zhu's empire come from all over China, but Jun Chen, who's taken the lead at the restaurant here, happens to be from Shanghai too, and his "Yang Chun" bone-marrow broth noodles (inspired by a subtle, deeply flavored specialty from the nearby city of Suzhou) are a thing of beauty. So are the Sichuan dan dan noodles, which our noodle scholars at Grub Street crowned the absolute best in the city, and the servings of freshly shelled New England clams, tossed in a cool little pyramid of green chives, which we enjoyed with a communal bowl of soothing, seasonal rice-and-tomato soup topped with watercress and pea shoots.
The clams are another Sichuan-inspired dish, and the nourishing rice-and-tomato soup is described on the menu as one of Madam Zhu's favorite "family recipes," which means it's also possibly Sichuanese, but who knows and, really, who cares? While New Yorkers have been dutifully ingesting the same leaden, carry­out-friendly, regional specialties for decades now, China's culinary culture has been evolving at light speed, and Madam Zhu's is our first window into this brave new world since back in the glory days of the '60s, when General Tso's made its sainted pilgrimage west from the restaurant kitchens of Taiwan. There are similarly strange, revelatory dishes on the menu here, like another beautifully textured Zhu creation called "seared beef with walnuts" (the candied walnuts are scattered with crunchy slivers of garlic, and the beef in question is filet mignon) and a modernist ravioli-like version of clay-pot dumplings, stuffed with water chestnuts and minced pork and served in a Le Creuset pot.
Underlying these subtle tricks and innovations, of course, is a great reservoir of first-rate classic technique, which means noodles are made fresh daily at Madam Zhu's restaurant (the exact recipe will vary slightly depending on the weather), along with the dumpling skins and the silky tofu, which Chen and his cooks sizzle in bite-size squares, like a savory version of the great Cantonese dessert delicacy crispy fried milk. The crêpe-quality scallion pancakes (crisped and wafer-thin) and soft, dome-shaped fried rice (flecked with scallions, egg whites, and dried scallops) are as different from your everyday, boilerplate carryout variety as a Beijing cheeseburger is from the real thing. Even the desserts, that eternal black hole in China's grand culinary cosmos, have their charms, in particular the smooth, not-too-cloying taro soup, which is sweetened with red beans and little soap-colored chunks of boiled taro, and slips down the back of the throat in a most authentically pleasing way.
Hao Noodle and Tea by Madame Zhu's Kitchen
401 Sixth Ave., nr. W. 8th St.; 212-633-8900; madamzhu.com
Open: Tuesday through Sunday for lunch and dinner.
Prices: Appetizers, salads, and dim sum, $5 to $15; entrées, $10 to $25.
Ideal Meal: Chinese chives with clams, Le Shan chicken, "sweetly smoked" sole, dan dan and/or scallion noodles with dried shrimp, seared beef medallions with walnuts and/or roasted Cantonese chicken, seafood rice and/or tomato rice stew, taro soup.
Note: Zhu Rong has designed this as a casual noodle-and-tea shop, so the "Teas and Specialty Drinks" section is full of all sorts of enticing little wonders.
Scratchpad: One star for the innovative modern Chinese menu, one star for the execution, and one star for the impeccable, old-world technique.
*This article appears in the July 25, 2016 issue of New York Magazine.