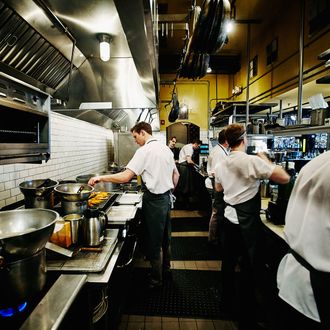 Business might be about to nosedive a little.
Photo: Thomas M. Barwick
Compared to other industries, America's restaurant biz has thrived lately — to take just two recent examples, the National Restaurant Association's performance index has topped 100 every month so far this year (which signifies industry-wide expansion), and the trade group predicts record-high sales for 2016. If restaurant-sector analysts are correct, though, restaurateurs better live it up while they still can: Investment firm Stifel today forecasts an imminent, sizable downturn is coming to the whole industry. The firm's team, led by senior analyst Paul Westra, says it made its prediction after watching the abysmal sales numbers roll in for this most recent quarter.

Thanks to those awful earnings reports (Starbucks, McDonald's, Taco Bell, and Chipotle all missed projections), the team "confidently believe[s]" that the restaurant industry is staring at "the start of a U.S. Restaurant Recession" — gloomy words no matter what, but especially gloomy when they're in capital letters like that. Even worse, Westra predicts the recession won't stay confined to just this one industry — he calls it "a harbinger to a U.S. recession in 2017," since restaurants "have historically led the market lower during the three- to six-month periods prior to the start of the prior three U.S. recessions." They advise selling restaurant-chain shares almost across the board, from Panera's to the Cheesecake Factory's, and don't bother singling out any particular brand (ahem, Chipotle) more than the others.
The takeaway here may be that it's time to concentrate that money in pizza chains — another analyst last week noticed Papa John's is actually doing pretty well right now, somewhat oddly, and theorized it's because civil unrest plus the 2016 election are just depressing everyone so much, they just want to stay in and order a pepperoni pie.