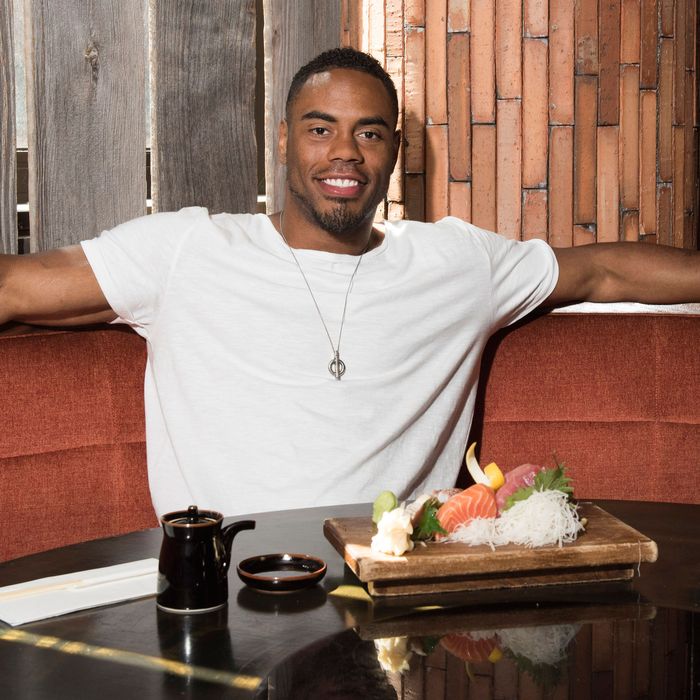 Rashad Jennings at Blue Ribbon Sushi Izakaya. "If I'm going to go out to eat, I find a sushi restaurant."
Photo: Liz Clayman
Running back Rashad Jennings — who, before signing a four-year deal with the New York Giants in 2014, played for the Oakland Raiders and the Jacksonville Jaguars — says his teammates like to give him a hard time about his diet. Yes, he avoids gluten and dairy, and a chef prepares almost all of his meals, but he credits his professional success to this kind of healthy eating. And, fortunately, he still gets to eat good food like pork tenderloin and chocolate ice cream. Allow him to explain in this week's Grub Street Diet:
Thursday, June 23
For breakfast, I made my smoothie at home: oatmeal, chia seeds, hemp seeds, flax seeds, almond milk, peanut butter, banana, vegan chocolate, ice, water, and protein powder. I make this 355 days of the year. It's delicious. It fills me up and gives me the right amount of carbs.
After I train and shower, I have a chef prep all my food. It's nice having a chef, because I might have an urge for something, and I can tell him what I want. I think more athletes should have chefs, because your body is your business. Taking the time to make sure it's fueled properly is a good investment. I had chicken with citrus and cilantro, gluten-free rotini, and sautéed asparagus.
After lunch, I nap and take care of business. For dinner, I try to have a variety of fish, chicken, and different meats, and, once a month, I have pork. This was that time: grilled pork tenderloin with herb gravy, smashed red-bliss potatoes, and peas. I had a couple of friends over, and we hung out and watched TV and played guitar.
Friday, June 24
I had my smoothie again for breakfast. For lunch, I ate sweet-and-spicy barbecue chicken legs, a baked potato, and more asparagus. If I have a hard day, like a really tough day, then I'll have something spicy for a few different reasons: Spice has a lot of healing antioxidants, and spicy food causes me to have to drink a lot of water. It's one of my methods to hydrate myself.
Dinner was bison Bolognese with gluten-free rotini and steamed peas. Bison is great! It's one of my favorite meats. It's tender, very filling, and it doesn't have as much grease. But it has the same type of taste as a burger, if not better.
Saturday, June 25
Smoothie for breakfast, and then, for lunch, pineapple-habanero chicken thighs, steamed millet, and sauteed green beans. The only thing I have pretty consistently is chicken, because it's good for my blood type.
I rarely have a cheat day, but there's an ice-cream parlor that has vegan options that are really delicious — Van Leeuwen. My favorite is the banana-nut with the vegan chocolate. I avoid gluten and dairy because I feel like I have a lot more energy when I cut them out of my diet. You know, you use energy to break down food. Breaking down dairy, and breaking down gluten, takes energy, and it's hard. I'd rather use my energy for physical activity and brain functionality.
For dinner, I had grilled lamb-loin chops, a baked sweet potato, and roasted vegetables.
Sunday, June 26
My smoothie, and then lemongrass chicken breast with jasmine rice and steamed peas.
For dinner, I had two crab cakes with tartar sauce, plus a baked potato and steamed broccoli. I'm a crab-cake fan: If I travel around and go to a nice restaurant that's high-end, they all make crab cakes from scratch. It's something I've picked up along the way.
Monday, June 27
My smoothie, and then a lunch of turkey-lentil chili, pan gravy, brown basmati rice, and steamed peas. I had chicken wings later as a snack. For dinner, blackened salmon with citrus-herb rice, and braised collard greens.
I used to cook for myself. My third year in Jacksonville, I tried to cook all of my meals, and I saved a lot more money. Most people don't want to eat clean or organic food because it's expensive. But if you cook in advance and freeze your meals, or cook things that keep in the fridge, you can cook on a Saturday and have food for the whole week. But it really takes time! I see it like this: My money is going to come out in the refrigerator or the hospital. I'd rather eat my money than give it to a doctor.
Tuesday, June 28
After my smoothie, I had bison meatballs, gluten-free rotini, and steamed broccoli for lunch. For dinner: tangerine shrimp, snow peas, jasmine rice, and steamed edamame.
I definitely eat differently than my teammates. They all make fun of me! They say, "Ha-ha, Rashad, always bringing his own food." But since my energy is high, I can run for days. They go from saying, "What are you doing?" to "How do you do it?"