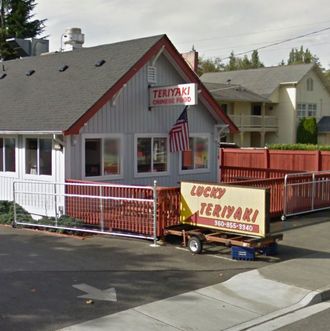 The owner says they can eat free on Monday.
Photo: Google
A Chinese restaurant in Washington says it's getting death threats after police claimed they'd gotten banned from the premises. The owner of the spot, called Lucky Teriyaki, in Skagit County, says he and his son don't speak English well and some sort of very unfortunate communication error is to blame.
The mess started yesterday, when Skagit County sheriff Will Reichardt wrote on Facebook that when deputies tried to pay for their lunch, the owner's son told them not to come back again because other customers "didn't like law enforcement there":

Reichardt explained that his chief deputy "simply could not believe" what his colleagues were saying had happened, so he called the owner to confirm. According to that deputy, the owner not only reiterated the ban, but also extended it: "The owner … asked that we spread the word to other law enforcement that they were no longer welcome either."
Pretty quickly after the post went up, the owner (who's only being identified by his last name, Li) says that the phone started ringing off the hook with people yelling in English, and that his son didn't understand any of it, so he just kept responding with "Okay." A Mandarin-speaking reporter eventually talked to Li on-camera, and he visibly broke down in tears, saying he's always appreciated the hard work police officers do and would never ban them.
Lucky Teriyaki has extended a re-welcome of sorts to anybody wearing blue, announcing that they'll eat for free this upcoming Monday, but the odds don't look so good that anybody from the sheriff's office will join. So far, the sheriff's office has only replied that there was in fact "no language barrier."