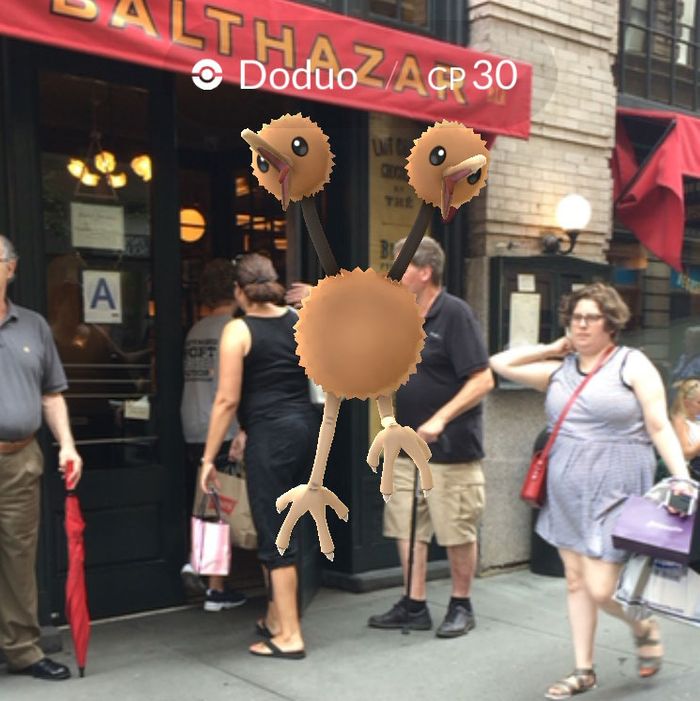 Catch 'em all. Then go have brunch.
Photo: Keenan Steiner
It's unsurprising that restaurants — all small businesses, really — have scrambled to take advantage of Pokémon Go hysteria. The app draws players to real locations, after all, and any owner is going to be happy to have more people coming in the door. Even still, it was surprising to learn Balthazar, Keith McNally's flagship bistro on Spring Street, had started to develop a following among Pokémon hunters — the stylish clientele McNally's restaurants are known for doesn't exactly gel with the image of adults playing a video game that was ostensibly designed for kids. But the two worlds seem to have found common ground at the Soho destination.
"Balthazar's the spot," said a handbag designer in her 40s, who was sitting outside the bakery, taking advantage of the restaurant's Pokéstop status while picking up a salad of green beans with asparagus and truffle vinaigrette.
To be sure, the famous restaurant is a designated Pokéstop in the app, which means players can head there to reload supplies as well as heal their Pokémon. But someone has also been paying to make the restaurant a Lure, a coveted place where more Pokémon than usual congregate, which in turn draws more players to the location. Businesses have recognized the potential to draw people in and can pay 99 cents per half-hour for a Lure. Balthazar's reps, though, swear the restaurant itself isn't the one paying.
Whoever is ponying up is getting their money's worth. There are so many diverse Pokémon to be found at the bistro that I moved from level 2 to level 4 after about an hour of playing. I caught plenty of two-headed bird creatures calls Dodous, and one creature called Exeggcute, a batch of five angry-looking eggs that appeared on the sidewalk just outside the restaurant's front door. It felt apt, given Balthazar is such a popular brunch destination. The biggest find, though, was a giant crablike Pokémon called, appropriately, Krabby. But right after two developer bros walked past me complaining about how often the app freezes, mine did, too, just as I was about to catch the giant (sort-of-delicious-looking) crab.

Even though Balthazar's reps say they have nothing to do with the swarms of Pokémon hanging around their restaurant, the staff inside was nevertheless happy to tell me that a monster can always be found in the back corner of the dining room. (Too bad my GPS signal was lost.)

Granted, most diners weren't playing Pokémon Go, but there were some exceptions. A 15-year-old boy in town from San Francisco with his mom entered the restaurant with the app open looking for Pokémon and said he was happy to learn that the restaurant they chose for lunch was a Pokéstop with a Lure.
Alas, when a waiter told me the restaurant was out of a crab-mayonnaise raw-bar dish that afternoon, I thought back on that Krabby that I'd come so close to catching. It was right there! And yet, I shouldn't have underestimated the restaurant's ability to keep customers happy: When I got home and checked my Pokédex, by some kind of magical occurrence, Krabby was in my collection.