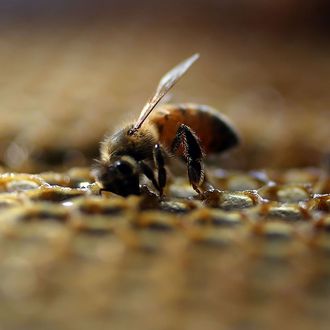 Buzz off, Roundup.
Photo: Joe Raedle/Getty Images
As if honeybees weren't handicapped enough already, it looks like America's overuse of pesticides now taints so much pollen that honey can't be called organic anymore. Farmers' carpet-bomb approach to using pesticides and weedkillers has become ubiquitous, and some beekeepers in the U.S. have actually started advising consumers who seek high-quality organic honey to buy from somewhere else, like Brazil or Mexico. Reminding people that nothing about honey's future is easy or simple, others caution it'll probably come with a trade-off: The imported stuff, even if it's organic, often gets heat-treated and filtered, stripping it of nutrients, so it's kind of lose-lose, really.
An organic shortage is doubly alarming news since the U.S. only produces two-thirds of the honey it did in the early '90s, according to the National Honey Board. Demand has increased twofold since then, Civil Eats notes — compounded by an uptick in demand for organic products, too, of course. The mystifying phenomenon of colony collapse disorder, meanwhile, has resulted in U.S. beekeepers losing about 30 to 45 percent of their hives annually.
Gene Brandi, president of the American Beekeeping Federation, tells Civil Eats that part of the problem is that something like 90 percent of bees in commercial apiaries come into contact with California almonds, which typically get treated with pesticides, meaning their honey "would be disqualified" as organic.

It turns out Hawaii isn't half bad. Because there's still wild forestland for bees to forage in, the islands are home to several of the very few certified-organic honey producers. (Bees in places like North Dakota now reportedly fly as far as five miles in search of flowers, a troubling radius for producers trying to ensure their honey stays organic.) But the Hawaii Beekeepers Association admits their days look numbered out there, too: "Hawaii is a testing ground for a lot of GMO crops," says association president Anthony Maxfield.
So, the good news is honey never expires, but the bad is that it might be time to start rationing.