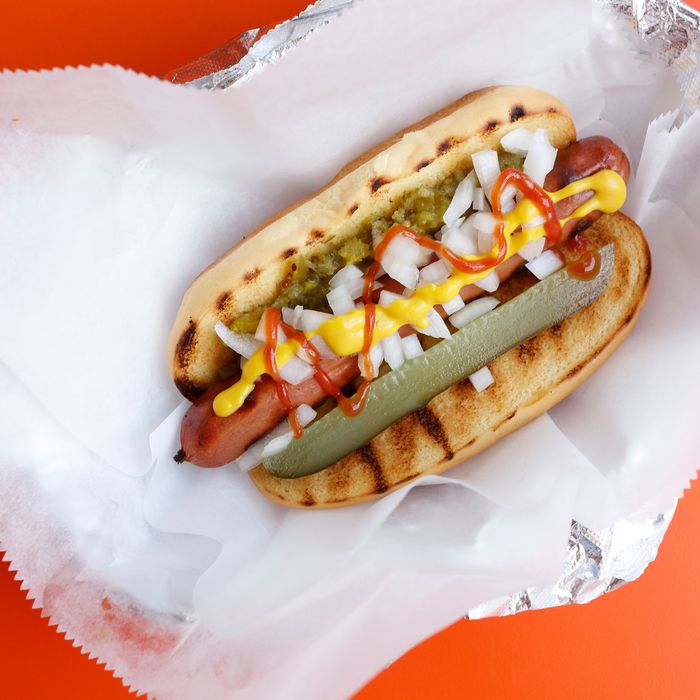 Grilled hot dogs are a summer essential.
Photo: Melissa Hom
Summer, everyone knows, is for drinking beers while casually tending to corn and burgers on the Weber. For many New Yorkers, however, grilling is out of the question. It either requires a trip out to the 'burbs, or there's no place or time for testing out that new special sauce recipe. The solution, of course, is to just orient your dining schedule around places that sell delicious grilled dishes of all kinds. To that end, here are 12 dishes to get you started:
Sahlen Hot Dog
Where: Buffalo's Famous
Price: $3
It's not summer without at least one grilled hot dog, right? The Ditmas Park spot, and recent Cheap Eats honoree, serves Sahlen's much-loved hot dogs fully loaded with ketchup, mustard, onion, relish, and pickles.
Wings
Where: 750 Myrtle Diner
Price: $9
The Japanese-style Western restaurant has been quietly doing good things in Bed-Stuy for the last year. Its menu changes daily, but its poultry and grilled meats are a regular feature of the menu. Keep it classic and start your meal off with a plate of grilled wings.
Red Wattle Pork
Where: Virginia's
Price: $28
The East Village restaurant — where former Empellón Cocina sous-chef Matt Conroy just took over as chef de cuisine — serves the juicy heritage breed pork with summery fava beans and charred corn, plus some pork jus for good measure.

Grilled and Chilled Corn in a Cup
Where: The Brooklyn Barge
Price: $7
Grilled corn is a cookout necessity. At Greenpoint's waterfront spot, the dish is prepared like esquites, the addictive Mexican street dish with crema, salty cotija cheese, and a hit of lime.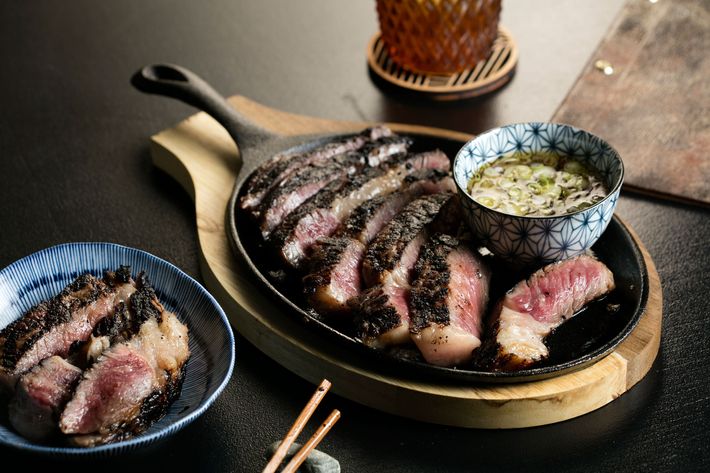 Dry-Aged Prime Rib Eye
Where: Karasu
Price: $67 for two
This is certainly an upgrade over your usual backyard chops. At the Japanese restaurant tucked behind Walter's in Fort Greene, the dry-aged rib eye is marinated in koji, sliced thinly after grilling, and served with ultra-savory tosazu sauce and koshihikari rice.
Trout
Where: Rider
Price: $24
The Williamsburg restaurant gives its trout a good char and pairs it with almond butter, sprouted lentils, garlic scapes, and bright and spicy yuzu kosho.
Pork Chop Scallopini
Where: Speedy Romeo
Price: $28
The Lower East Side outpost of Speedy Romeo goes the nontraditional route of grilling its pork-chop scallopini. Because one grilled food isn't enough, it's topped with grilled speck, plus almonds, and served with grilled peaches along with Pecorino polenta and frisée.
Black Cod
Where: Colonia Verde
Price: $28
There are few better places to be in New York on a nice night than this Latin American spot's backyard. Pair a cocktail or two with the black cod, served with a purée of Meyer lemon and grilled leek, basmati rice, and a dried-fruit-and-watercress salad.
Salmon Bibimbap
Where: Her Name Is Han
Price: $11
During lunch, the modern Korean restaurant serves an aquatic take on bibimbap with glazed and grilled salmon, avocado, seasoned radishes, and gochujang.
Grilled Prawns
Where: Schilling
Price: $25
At the Financial District bar from Austrian chef Eduard Frauneder, grilled prawns are served with baby leeks, potato confit, and sauce piementon.
Fava Beans
Where: Olmsted
Price: $8
Here, fava beans are steamed for five minutes, tossed in extra virgin olive oil, and then grilled on each side for four minutes. The side of crunchy salt for dipping will help you turn the beans into a proper drinking snack.
Naem Moo
Where: Thai Diva Cuisine
Price: $8 or $9 with an egg
It's not your all-American grilled sausage, sure. The new Woodside restaurant grills a very tasty and notably sour fermented pork sausage, which comes in a hefty portion with sticky rice, chili, peanuts, and other fixings.