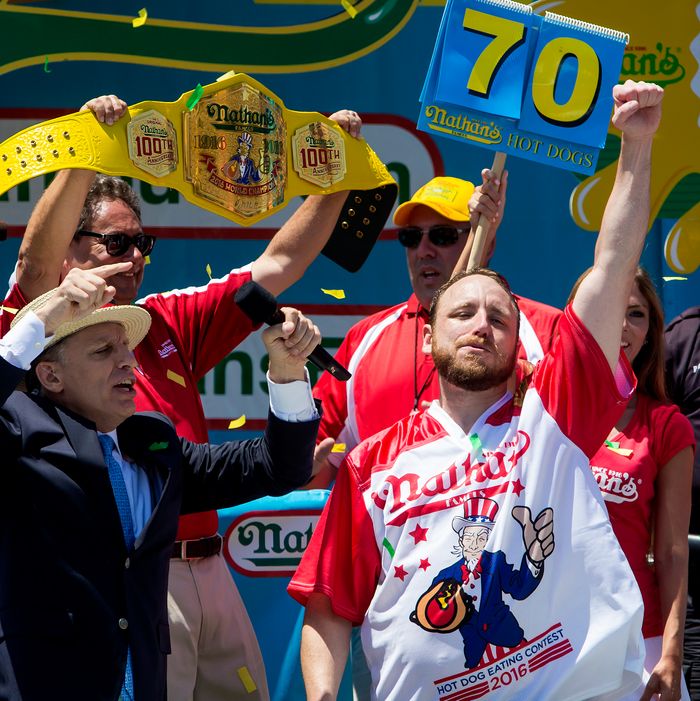 A true patriot.
Photo: Eric Thayer/2016 Getty Images
As it does every year, this great nation celebrated its independence from Britain yesterday with a nationally televised contest to see who could eat the most hot dogs without barfing. For better or worse, the Nathan's Hot Dog Eating Contest — held every Fourth of July at Coney Island — is now an American tradition, as much a part of our cultural fabric as football on Thanksgiving or stampeding through Walmart looking for discount Blu-ray players on the day after Thanksgiving. And this year's contest was one for the record books: Joey Chestnut, perhaps the world's preeminent competitive eater, pounded down 70 hot dogs in ten minutes, the most ever at the event.
In many ways, of course, the entire contest is entirely grotesque. (If soccer is often called "the beautiful game," the hot-dog-eating contest would be whatever the opposite is.) But in other, more important ways, the hot-dog-eating contest might be the pinnacle of human athletic achievement, the purest expression of man triumphing over the perceived limits of the human body, fighting against every urge to stop, or to take a break, or to — in the parlance of competitive eating — "reverse" everywhere, all in the service of cramming one more goddamn hot dog into your mouth.
There's still room for improvement, however. Chestnut, in fact, set the hot-dog-eating world record during a qualifying event in June, officially recording a tally of 73 1/2 franks. And now it seems America has something to look forward to during next year's contest.