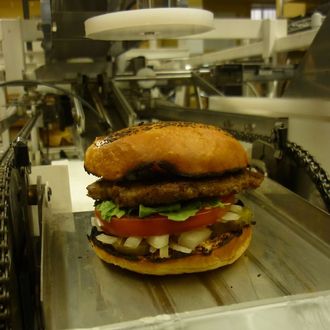 One of very many.
Photo: Momentum Machines
A few years back, a start-up called Momentum Machines bragged that it had disrupted fast food forever with a burger-flipping robot. The thing could allegedly crank out 400 sandwiches an hour and customize each to the creator's liking. The idea — which sounded pretty fantastical at the time — was that they'd invented the hamburger's Gutenberg printing press, and soon human cooks would be redundant.
Well, it looks like the company is now ready to open its first brick-and-mortar restaurant out in San Francisco. Tech Insider noticed a Craigslist job posting for a position at a restaurant in the city's SoMa neighborhood. It "will feature the world-premiere of our proprietary and remarkable new advances in technology that enable the automatic creation of impossibly delicious burgers at prices everyone can afford," the ad teases generically.
A schematic released in 2014 shows what the bot is supposed to look like: a device Tech Insider describes as a "24-square-foot Rube Goldberg–like machine, complete with a stamper that grinds and shapes custom blends of meat." A patty that's one-third pork, two-thirds bison is supposed to be "no problem." Once assembled, the meat is fed into an attached oven, then added to a bun along with the specified condiments and whatnot. The ad boasts that "burgers sold at 680 Folsom will be fresh-ground and grilled to order, served on toasted brioche, and accented by an infinitely personalizable variety of fresh produce, seasonings, and sauces."
The job being advertised is a "restaurant generalist." It's unclear what this position entails exactly, but the listing mentions everything from taking orders and emptying the trash to "new skills that aren't part of typical restaurant work" like software troubleshooting and product development. But applicants probably shouldn't mistake it for a job with much career advancement: "Our device isn't meant to make employees more efficient," Momentum's co-founder has said. "It's meant to completely obviate them."