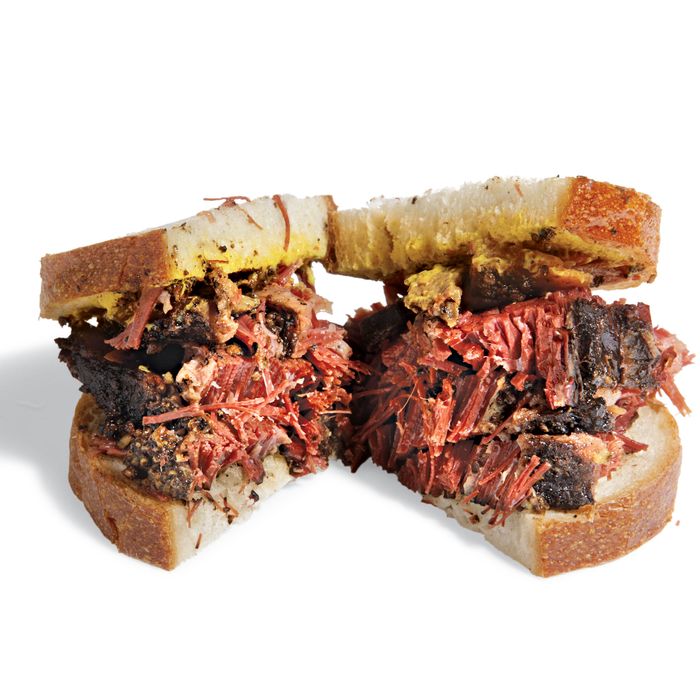 Now available uptown.
Photo: Hannah Whitaker/New York Magazine
Since debuting in 2010, Noah Bernamoff's Mile End has become something of a New York institution. The Brooklyn delicatessen with a Canadian slant expanded to Manhattan, Bernamoff and his partners opened Black Seed Bagels, and no less an authority than Canadian prime minister Justin Trudeau has stopped in for the shop's signature smoked meat and poutine.
Starting today, a third Mile End location will officially be open, this one located in the Urbanspace Vanderbilt food hall. There will be smoked-meat sandwiches (along with corned beef and smoked turkey). There will be poutine. Black Seed bagels will be plentiful, and the shop will even offer a $5 "bodega special" with egg and cheese on a roll. (You can also get that egg and cheese on a bagel.) And there's a new addition to the Mile End canon: corn dogs. Anyone familiar with Pogos knows that Canada has a long, storied appreciation for sausages dipped in corn batter and deep-fried until they're all sweet and crisp and golden. Five dollars will get you one, or you can double up for $9. For the time being, the corn dogs will only be available at the midtown location, so head here if you want to give them a shot.
Hours are 9 a.m. to 5 p.m. on weekends, and 7 a.m. to 9 p.m. on weekdays. Early birds should note that, until Labor Day, the shop will also offer a bacon, egg, and cheese and a coffee for $5 to anyone who stops in before 9 a.m.
Here's a PDF of the full menu.