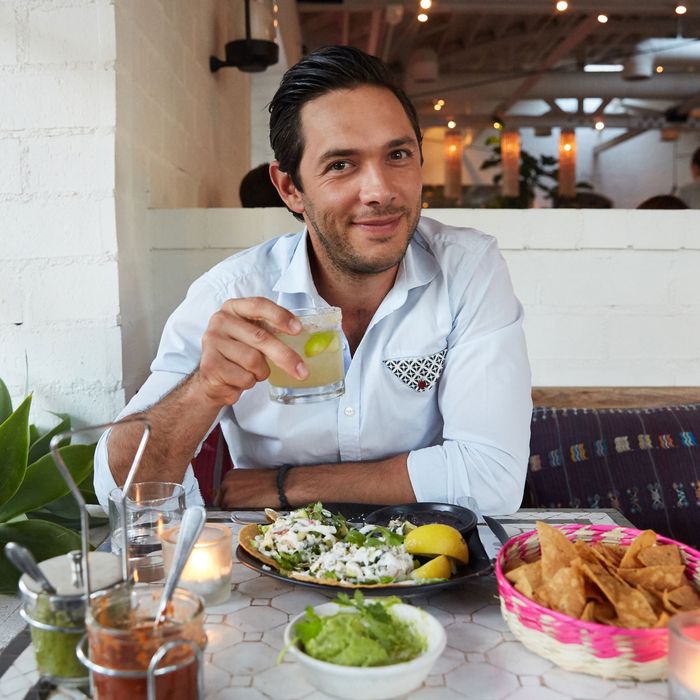 Rady at Gracias Madre, one of his favorite L.A. restaurants.
Photo: Yuri Hasegawa
Michael Rady plays a major role in this season of UnREAL, but you might also recognize him from Jane the Virgin, The Mentalist, and The Sisterhood of the Traveling Pants (Kostas!). This week, the Philadelphia-born actor left L.A. to visit his family at the beach in Margate, New Jersey. It was the Fourth of July, after all, and Rady took full advantage, enjoying (veggie) burgers, fig cookies, fresh cherries, and blueberry pancakes. Read all about it in this week's Grub Street Diet:
Thursday, June 30
I woke up in Margate, New Jersey — with my whole family — and made a big bowl of hot cereal. It's a go-to for me: oat bran, rolled oats, rye, barley, crushed flax seed, chia seeds, hemp seeds, shredded coconut, organic almond milk, blueberries, bananas, raisins, and date syrup. My little boys eat it, too. My wife packs hers with hemp protein, because she's pregnant right now.
I had some fruit throughout the day as a beach snack — bananas, cherries, plums, watermelon. And I ate three fig-bar cookies from Trader Joe's. Those Trader Joe's fig cookies haunt me. They're spectacularly good.
When we're not in California and on the go, whenever we see green juice we try to pound it down. It's a little harder to be vegan outside of Southern California. Back home, we frequent Sage in Culver City, Gracias Madre, and Café Gratitude. [Co-star] Shiri Appleby's husband owns Animal, Jon & Vinny's, and a bunch of other meaty places, and she told me that he'll cook vegan food for us! He just cooked for Bill Clinton, who's vegan. We're so excited.
For dinner, we made veggie burritos in whole-wheat tortillas — another great family meal. We can pack them with protein, which, with a pregnant wife, is always a concern. I've been vegan for about nine years. I first went vegan for health purposes, just to explore and see how it felt — I'm always on a journey of body awareness and understanding. And I never looked back. Nine years later, my motivation is a mix of environmental concerns, health reasons, and animal rights. I was Tyrannosaurus rex, born and raised in Philly. I never imagined, ever, that this would be a thing for me.
Friday, July 1
I needed something refreshing, so I dipped into our double-decker fruit bowl and had a pear, a clementine, and watermelon.
My go-to breakfast, especially when I'm working on set, is a banana sliced in half long ways and smeared with cashew butter. I sprinkle it with chia, hemp, ground flax seeds, and coconut shreds. I also had a few handfuls of kale chips and cherries. I was running around with the boys, trying to get some sunblock on them before they ran to the beach. I was just scarfing fruit down.
At the beach, I snacked on crackers, carrots, cucumbers with hummus, an apple, and green kombucha. All things that are easily portable. We really try to stay as nutritious as possible.
For dinner, we went to a pizza place in Margate, got dough, and made our own pies with the family. I'm a big fan of dressing them up and making them fun and delicious, so we added some wild mushrooms, roasted garlic, non-dairy cheese, and then did one with pineapple. We had a kale salad as well. In California, we cook all week long, usually three meals a day. I had a soda that night, too.
Saturday, July 2
I had avocado toast in the morning, and then made BLTs for our beach snack, with tempeh bacon and Vegenaise for the mayo.
For dinner, we had tofu-scramble wraps — another go-to for us and, again, protein-packed. Mushrooms, sweet potatoes, onions, peppers, baby kale, black beans inside, topped with tomatoes, avocado, cilantro, hemp seeds, pumpkin seeds, and salsa.
Sunday, July 3
For breakfast, we made blueberry pancakes with Einkorn flour. None of us have celiac, but we try to stay gluten-aware, as we call it. We don't avoid it, necessarily, we just like to know how much is going into our bodies. We're not super-strict, though. With the pancakes, there was still maple syrup.
I drank a green kombucha and then ate a bowl of quinoa salad with organic blue-corn chips. Later, I had some trail mix (almonds, walnuts, sunflower seeds, pumpkin seeds, goji berries, currants) and green juice, plus two squares of 70 percent dark chocolate and watermelon.
For Sunday night dinners, we tend to make Italian food, so we had penne puttanesca with a crumble on top (nutritional yeast, walnuts, hemp seeds, and salt, mixed in a coffee grinder), capers, olives, shallots, and San Marzano tomatoes, which are the best. I had wine; we love our Tuscan and Sicilian red wines.
I come from a half-Italian family. They're okay with the veganism now, but it took a while for them to come around. In these past nine years, a lot of the country has started to hear more about plant-based diets. It's easier now.
For dessert, a bowl of frozen grapes.
Monday, July 4
I started with hot cereal with goji berries and bananas on top, and then had two clementines.
Mid-afternoon, I made a smoothie: frozen blueberries, mango, strawberries, E3Live, pumpkin seeds, shredded coconut, hemp seeds, vanilla Vega protein, four dates, a banana, and three leaves of kale.
Throughout the day, I snacked on corn chips and dark chocolate. I was busy on the beach, dragging the kids on their boogie boards, looking for sand crabs. I don't even bring a chair to the beach anymore; there's no time to sit down.
For dinner, we made veggie burgers with tomato, avocado, and chipotle-lime Vegenaise. Plus: baked beans, corn on the cob with salt and vegan butter, and watermelon and grilled pineapple. My mom made her famous Italian bruschetta. The world should know! She makes the best. She made it for our wedding, actually. She uses Jersey tomatoes and all the backyard basil.
Two scoops of Ben & Jerry's non-dairy Chunky Monkey for dessert. My parents bought that for us. We're always excited when new vegan flavors come out.
Tuesday, July 5
I went to a store called Greens & Grains and bought some açai bowls for the family, with scoops of hemp protein added. Also got grapes and BLTA wraps with tempeh bacon for the car ride home.
We stopped in Philly at a friend's house and made some avocado toast, and then went to Rittenhouse Square. We were on our way to VStreet, but our kids were melting down, so we stopped in a random juice place, and it was top-notch: P.S. & Co. I had a beet burger that was really, really good, and then I had a mini French-crust wild-mushroom pizza. And a spectacular kale-avocado smoothie.
Chalits Thai Bistro, out in central P.A., is some of the best Thai food we've ever had. And we love our Thai food. It's a little gem. I ordered tofu summer rolls — yellow curry with tofu, broccoli, pineapple, and cashews over brown rice. Thai iced tea with soy milk, too, and one beer.