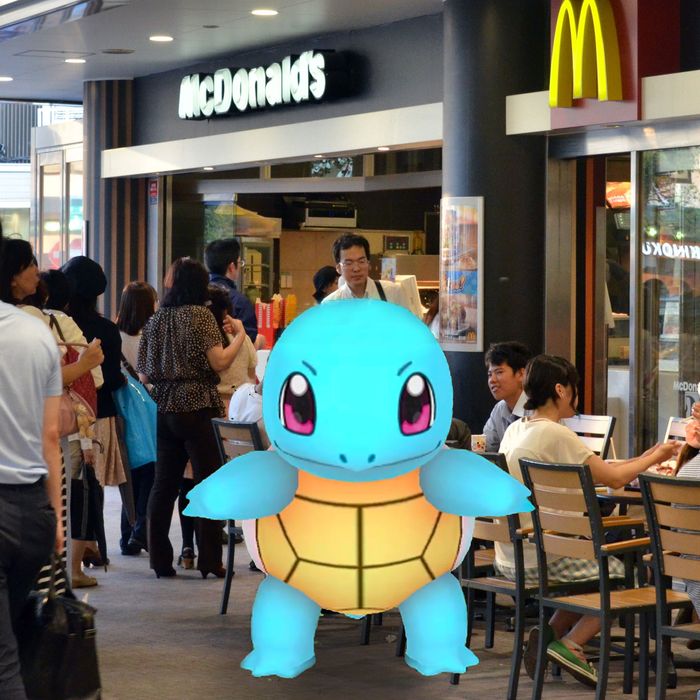 Pokémon Go caught 'em all.
Photo: Yoshikazu Tsuno/AFP/Getty Images
Hope your Squirtle likes Big Macs. Rumors were confirmed Tuesday that McDonald's has struck an exclusive advertising deal with Niantic, the developer of Pokémon Go, to turn all 3,000 Japanese locations into "gyms," the spots players must physically drag themselves to in real life to train and battle their Pokémon, ideally day after day after day. The market went nuts at the news, rewarding the company's Japanese arm, called McDonald's Holding Company, with a 23 percent jump in its share price, the biggest daily gain since being listed in 2001. It could prove the saving grace for McDonald's Japan, which hasn't been terribly profitable since last year's "recycled meat" and human-tooth food scandals — so little so, in fact, that Reuters reported in December that executives were shopping the affiliate around.
Surprisingly, the app hasn't actually been available in Japan, the birthplace of Pikachu, Bulbasaur, and the rest of their Poké-friends, but was supposed to launch today. Infuriatingly for eager gamers, there's now been a short delay thanks to the insanity that erupted after the rumors of the McDonald's partnership, and now they're waiting a little longer to give people time to prepare for the inevitable, when the shops are overrun with people gazing into their phones for hours on end.