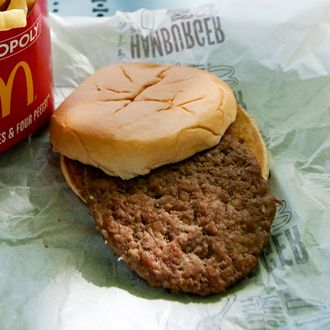 Honestly, how can you improve upon this?
Photo: Don Emmert/AFP/Getty Images
Fresh burgers taste superior, sure, but in a new survey, franchisees predict it'd be a McDisaster to overhaul operations so the chain could serve them. The group of owners, who run about 200 locations nationwide, tells investment firm Nomura a shift like that makes McDonald's vulnerable to outbreaks of you-name-it, since all it takes is one "uncaring employee doing something that puts the entire system at risk."
They mention how raw meat is just asking "for bacterial invasion of our product," adding that "Chipotle will be a walk in the park if we have an incident." Some went so far as to call the test McDonald's is doing right now with fresh patties in Dallas "a huge distraction" from the chain's turnaround plan — never-frozen beef is "purely a marketing move," they feel.
Not that McDonald's franchisees have had the best business acumen historically (see how they mocked the brilliance of all-day breakfast), but frankly they may be on to something when they reject fresh Quarter Pounders as a colossal waste of time and argue: "The only ones who care are the ones who don't eat at McDonald's."