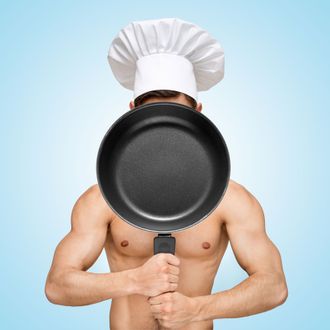 Très ready for this.
Photo: Dmitry Fisher
What's French for duh? The Bunyadi, the world's first buck-naked restaurant, which received a surprisingly warm reception in London, is decamping for Paris. Why seems fairly self-explanatory, but creator Seb Lyall fleshes the thinking out to British magazine Country & Town House anyway: "Our current venue isn't suitable for our plans to grow. It's been warm and there's no air conditioning. We've had a fantastic two months and now we need to move on." He hears there are "some empty spaces in Paris," and expects the French will have a healthy appreciation for his "very niche" dining concept.

Lyall adds that means this weekend will sadly be Londoners' last for eating in the nude. He's already narrowed the options for le Bunyadi français down to three venues, and says the pop-up will run for September and October. The menu and drinks will change, but that "Pangea-like world" Lyall's team strips of all modern impurities, from chemicals in the food to electricity, will be replicated again in Paris. In other words, so much sweaty skin — still going to a problem.