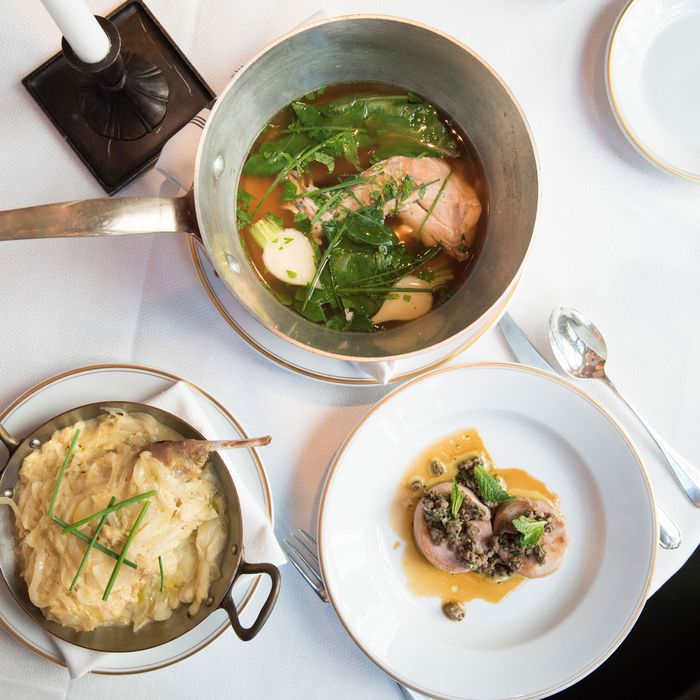 Here it is, in all its glory.
Photo: Liz Clayman
At the newly opened Le Coucou, chef Daniel Rose is cooking classic French dishes that make it clear why he became such a success in Paris at his restaurants Spring and La Bourse et La Vie. The most impressive of his New York dishes might just be "tout le lapin," a.k.a. "all of the rabbit." The $36 dish is actually the least expensive of all of the entrées on the menu, which makes its grand presentation a wonderful surprise — it arrives in three parts, all cooked quite differently. "The problem with rabbit is that it's like chicken," Rose explains. "It has a lot of elements, and it's a shame to just eat the legs, or just eat the saddle, or just eat the front legs. The idea was to get it all into the same dish. But I guess we failed at that because it's actually three dishes." This dish is many things, but a failure certainly isn't one of them. Here, Rose explains his step-by-step cooking process, and shares his recipe:
We start with a whole rabbit and remove the legs, the middle section, and the saddle. We start at the bottom and move up. The hind legs get marinated in mustard for the night, and then put in the oven with lots of onions for about four hours at a very low temperature — 185 degrees Fahrenheit.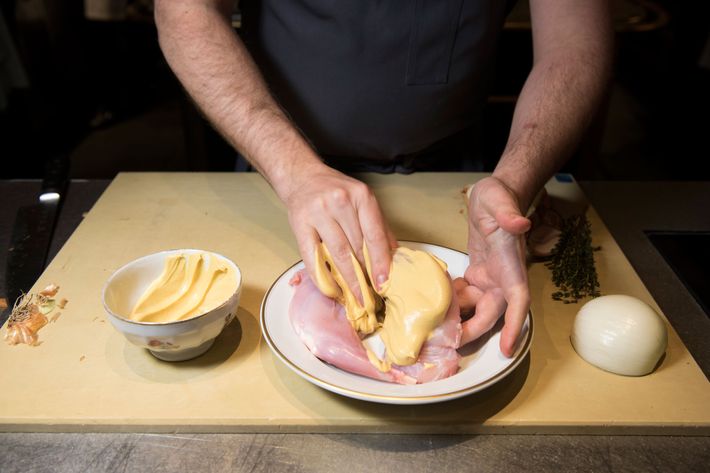 We turn the onions as they're cooking, and they make their own sauce as they sweat. It's very delicious. We add a little bit of white wine, cook them down, and that's it. There's no butter in the dish at all. I know it sounds dumb, but it's my crowning achievement. The richness of this dish comes from the ingredients themselves and the careful preparation. Rabbit, by nature, has that buttery quality. It doesn't need more butter.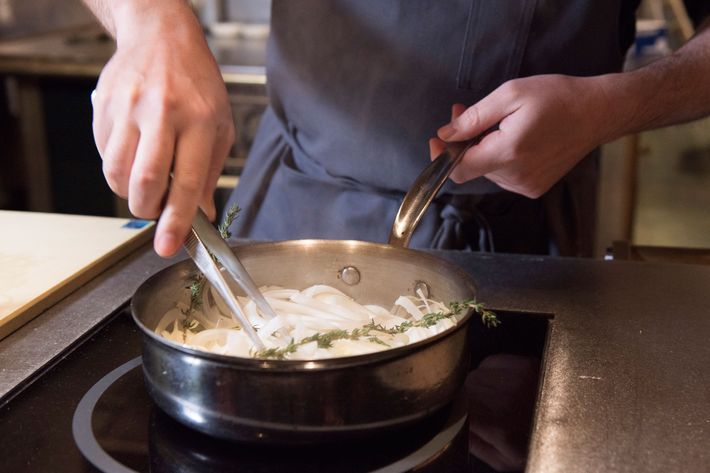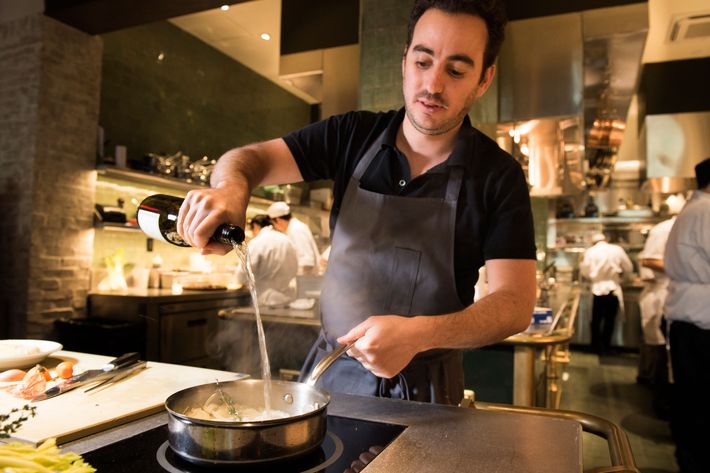 The legs go into the oven with the onions for a very long time, and then when we serve it, we take some of the juice that's come out of the leg and the onions and pile it on top before we reheat it.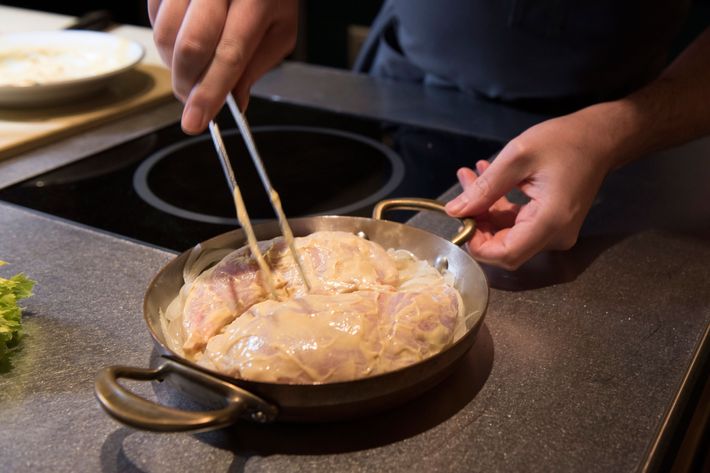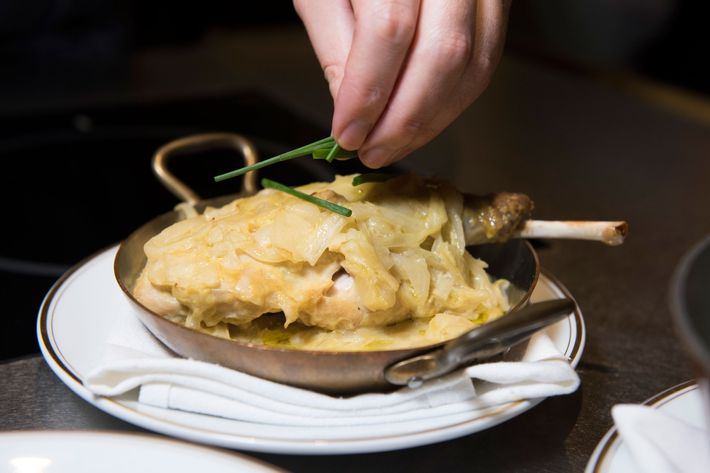 While that's going on, we debone the saddle and chop up some liver.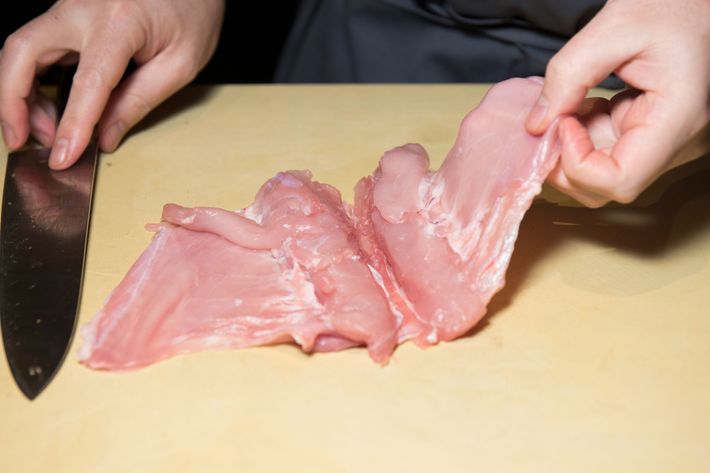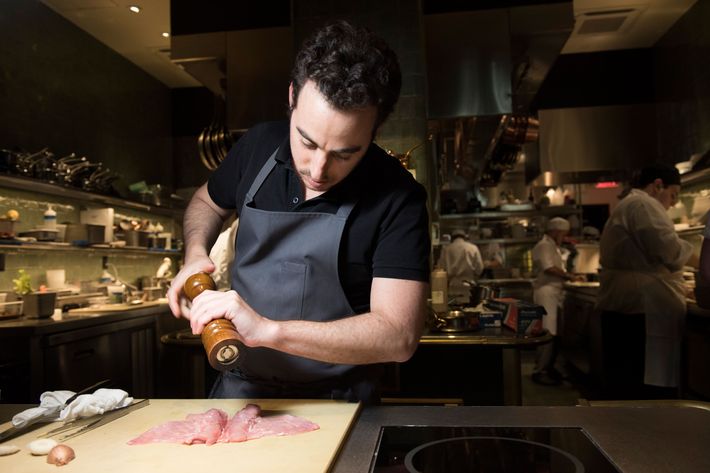 We carefully roll the liver into the middle of the saddle, and cook the saddle.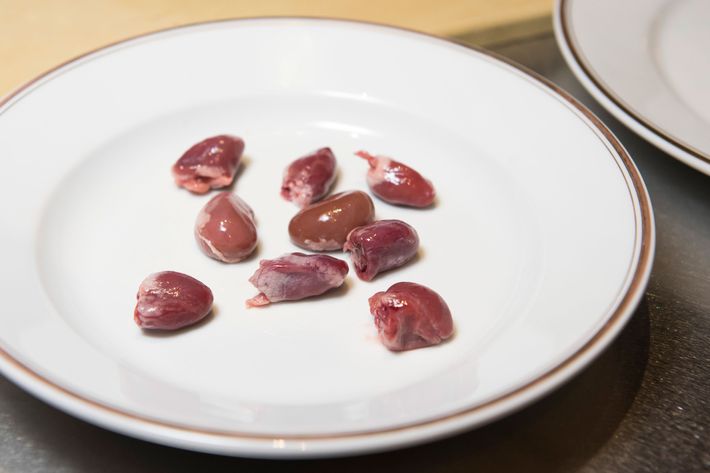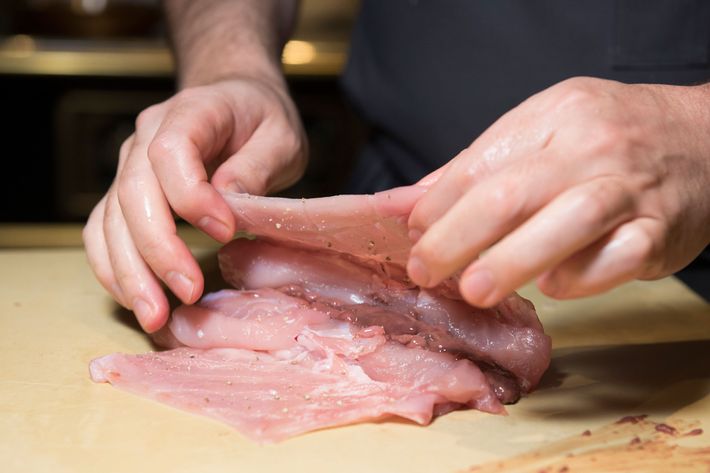 That gets steamed and sliced into little medallions. They get colored a little bit.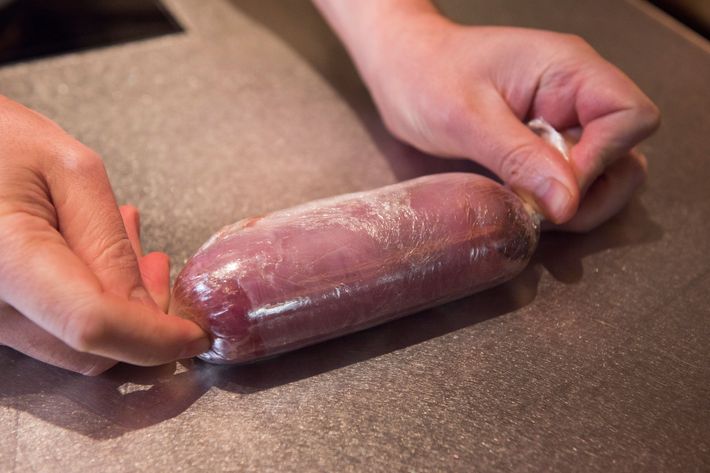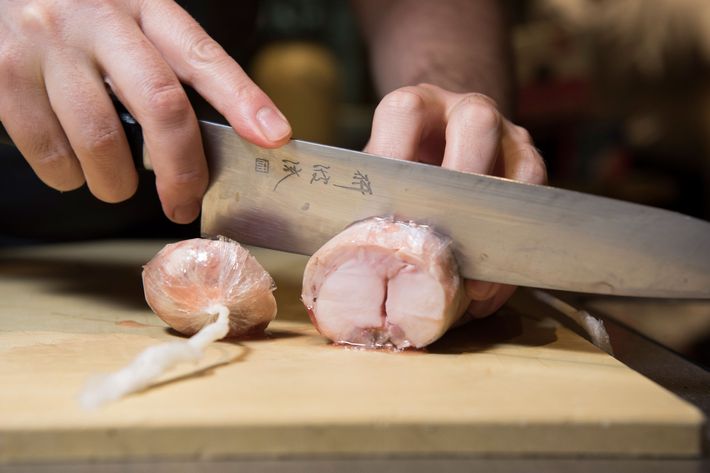 Rabbit can be very peculiar. It can go mushy if you cook it too low, but it can also be very quickly overcooked.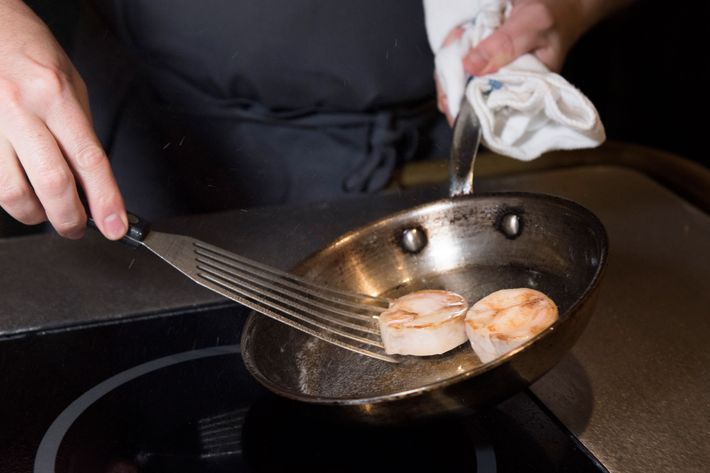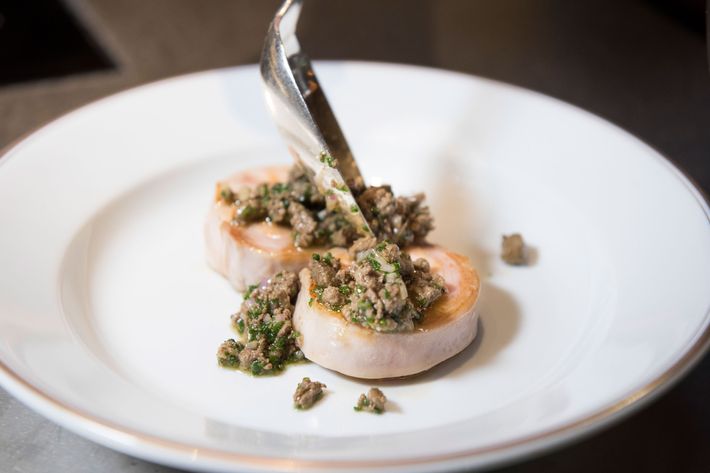 With the front legs and the chest and some of the belly, we make a broth, which is what arrives in the pot. It's very simple.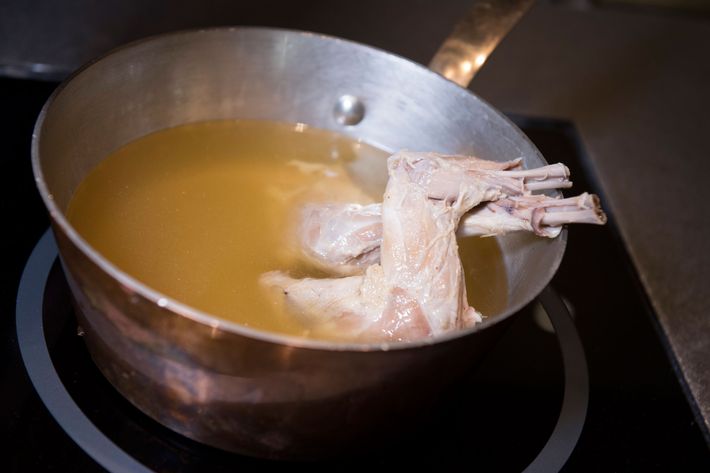 We color it lightly in a little olive oil, and then add water, bring it to a boil, and let it cook slowly. We then add carrots, onions, a little garlic, shallots. You can add anything you want. We use fresh parsley stems.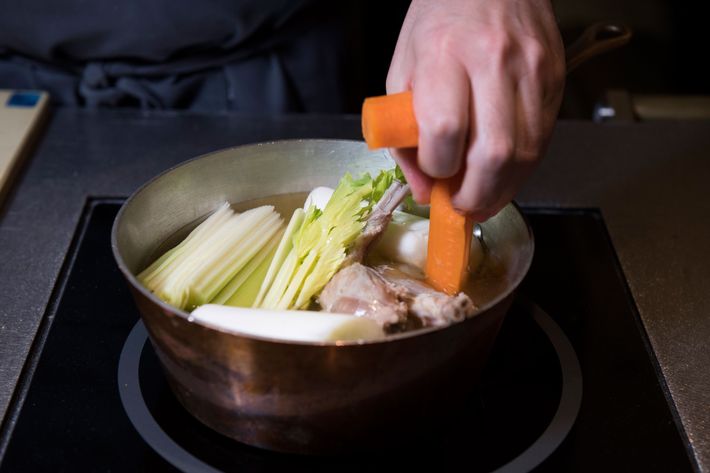 On the menu, there's no way of knowing how grand it is before you get it. It's disproportionate to someone next to you ordering another entrée, and it's enough for two people, for sure. It might even be enough for three. This sounds dumb, but we have certain types of pots, and we had to fill the pot. You can't put too little in the pot. I think those idiosyncrasies are nice, though, because it makes you feel like you're not at a place that's been too perfectly engineered.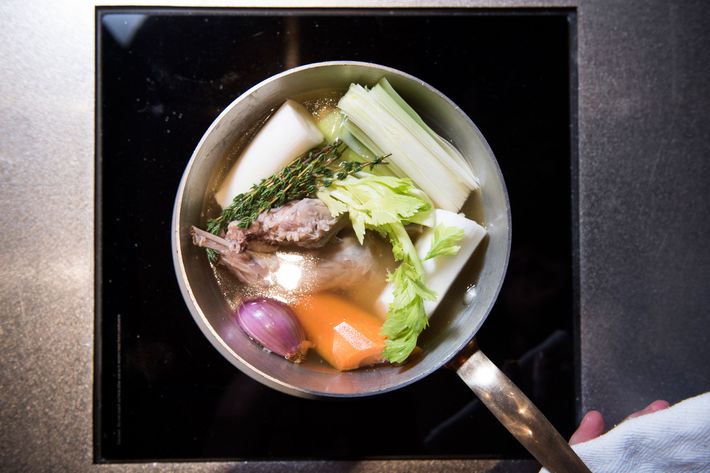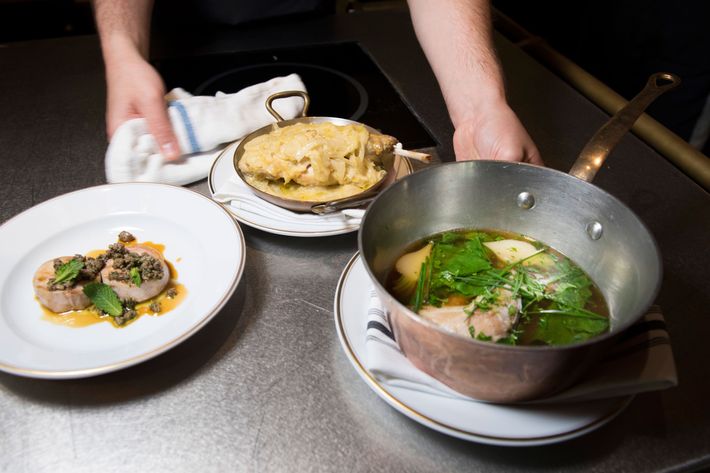 We're careful to choose things that seem just a little provocative, like rabbit. There's nothing weird-tasting about rabbit. It's a very familiar taste. But there's an idea people have about bunnies, and I get it. My first waitress had a pet rabbit, and the only night she missed was the night her rabbit died, and I could never serve rabbit again. Americans have this idea that the taste is going to be wacky, or that people eat this as an adventure. But when people eat in France, they do it because they really like something. The taste is not an adventure.
There were two different ways of going about this project. One was to take the best of things we made at Spring and put them on the menu in New York. I come for a little while, and then I step away. Or we continue exploring what French food is here in New York, which I think is more of the track we're going down.