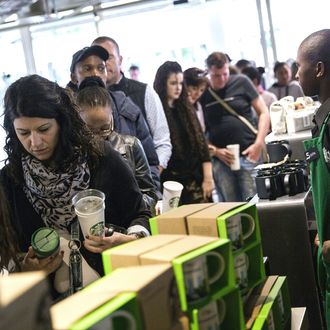 Baristas say the company's stepped out of line.
Photo: GIANLUIGI GUERCIA/AFP/Getty Images
Starbucks' penny-pinching ways could be why it's suddenly taking longer to get your morning latte. The coffee chain tried addressing barista complaints about feeling overworked and underpaid by (sort of) giving them a raise and letting them wear cool hats, but employees have started leveling more specific charges, and the latest is that the company's alleged labor cuts were seemingly a coordinated effort done on the sly to quietly save money. "The change came with no warning or explanation from executives; some staff say their schedules were cut in advance, while others have been sent home during their shifts," says BuzzFeed's report. "Many have taken to social media to complain, with some threatening to quit."
Starbucks denies it's cooked up some secret labor-cutting plan, arguing: "We are not trying to reduce labor. We want our stores staffed in accordance with what they each need." Only 3 percent of recent employee complaints, it adds, concern staffing or scheduling problems.
But internal emails reviewed by BuzzFeed tell a slightly different story. Growth has slowed companywide, so executives are naturally monitoring expenses closely right now. They pointed to May and June as "historically challenging" months where "the business experiences a significant decrease in transactions, resulting in an overspend in labor." Their fix this year: a new "forecasting tool" that would "compensate for downward trend in business." How it worked in practice, according to employees, is that Starbucks quietly tweaked the algorithm that determines the number of work-week hours that can be divvied up among staff. Normally, managers input a store-sales estimate, and a shift-planning software, called Global Labor Scheduling, spits out a total.
But managers say, lately, their estimates have been "returning fewer hours" — whereas an estimate of 800 transactions per week might have previously generated 70 hours of labor, the same estimate now might only get a store 65 hours. According to one manager who's been there almost a decade, it's like "someone seemingly flipped a switch on the labor model."