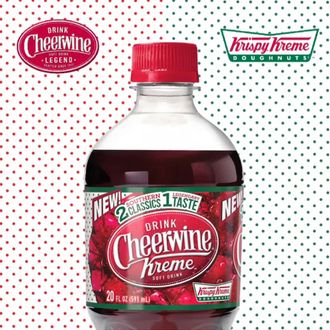 Next stop: diabetes.
Photo: Cheerwine
It's hard to wrap the mind around the Dantean level of sweetness into which this product would descend, but two juggernauts of southern junk food, Cheerwine and Krispy Kreme, have combined their artery-thickening powers to create Cheerwine Kreme, a Frankenstein's monster of a soda that purports to be both a cherry soft drink and doughnut-flavored.

It's worth noting that this isn't their first collaboration: In 2010, Krispy Kreme rolled out a Cheerwine-flavored doughnut, but that was really just a matter of making cherry cream filling. Infusing Cheerwine's burgundy-colored black-cherry soda with doughnut requires a whole new kind of southern sorcery.
Fans of the soda, which is made by the Carolina Beverage Corporation, will buy ice cream, sherbet, whole frosted cakes, anything with its distinctive flavor, and Winston-Salem-based Krispy Kreme's prowess has grown formidable enough in recent years to plaster its name on local children's hospitals and hold an annual, sometimes-lethal doughnut-eating road race. All that's missing to crown it king junk food is a glob of Paula Deen's butter floating on top.