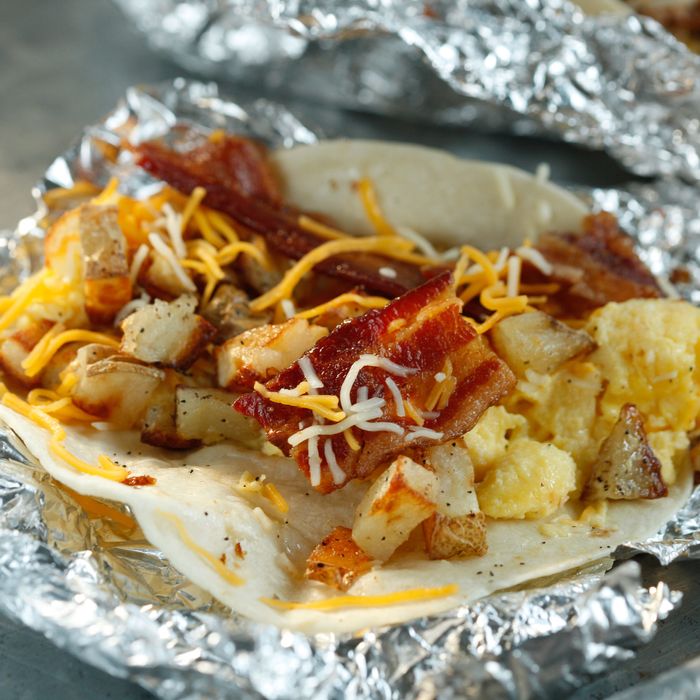 The signature taco costs $4.
Photo: Melissa Hom
Like almost all native Texans living in New York, Liz Solomon constantly craves something seemingly simple but out of reach: the perfect breakfast taco. "There are only a few places serving breakfast tacos in New York, and each time I try one, I'm so disappointed," she tells Grub. "It's never done right. Either it's served on a corn tortilla, it has cotija cheese all over it, or chefs overcomplicate it. Tex-Mex, in general, sounds like it should be easy to execute, but it's also really easy to eff up." Tired of waiting, Solomon decided to abandon her decade-long advertising career to launch her own catering and delivery company, King David Tacos.
Solomon makes two kinds of tacos — one with scrambled eggs, potatoes, a Cheddar–Monterey Jack blend of cheese, red "picante" salsa, and bacon; another with vegetarian refried beans. A taste-test confirms that these tacos can stand proudly alongside those served at Austin's famed Tacodeli or Veracruz All Natural. Before Solomon began delivering tacos to New York offices in June (there's no brick-and-mortar yet), she spent five months obsessively sourcing ingredients. "I'm buying jalapeños from a Mexican grocery store in Sunset Park, because the suppliers here don't carry the brand that I need," she says. "Homemade flour tortillas are amazing, but since I can't take that on right now, I'm getting mine from a place called Fiesta Tortillas in Austin. They don't have a distribution line here, so I ship them via FedEx. I spend as much on FedEx as the tortillas cost."
Each taco costs $4, and Solomon only accepts orders of a minimum of 100. She realizes New Yorkers might balk at the price, which is why, like Mah Ze Dahr's Umber Ahmad, she strategically started her business as an online-only, delivery-based venture, cooking out of Hana Kitchens, an incubator kitchen in Industry City. "Catering is phase one," she says. "As someone who's bootstrapping this, and coming from outside of the food industry, I don't have much capital. I thought, What can I do that will allow me to scale slowly, and to still hit the volume that I need? Also, I think that the catering market has a big gap, and I experienced it when I worked in the agency world. You either have bagels and muffins, or a full catered breakfast, which not all offices can afford. Plus, I think that New Yorkers aren't that familiar with breakfast tacos. Everyone keeps saying, 'Good luck with your burrito business!' So the idea behind catering is that I'm bringing breakfast tacos to the people, instead of making them come to me. And in that sense, I'm able to spread the word faster — spread the breakfast-taco gospel further."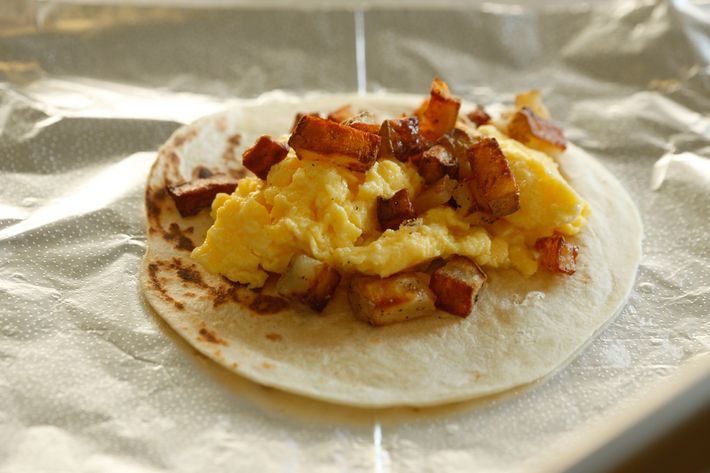 But of all of the delivery foods, tacos are arguably the most precarious — they historically don't travel well. Solomon challenges this notion. "I actually don't know that breakfast tacos are best when they're piping hot and fresh," she says. "Some people say they like them better at room temperature. I transport them in insulated bags, but you can totally microwave them and they are still great. That's part of the reason I chose all the ingredients that I did, because they can hold up reheated. I cook the potatoes in a way that they're not crispy, but they have a crust, so they don't get mushy after you've wrapped them up."
Solomon isn't even sure that she ever wants to open a stand-alone taco shop in New York. "I just feel like brick-and-mortar isn't necessarily part of the strategy," she says. "Even if I had all the money in the world, and an amazing staff and space, I just don't think that New Yorkers are ready to go to a breakfast-taco place often enough." There are many pitfalls to owning a trendy single-concept restaurant, but what does set Solomon up for long-term success is the restraint and simplicity in her cooking. "When I built my business plan, I said, 'I do not want this to be a destination, event-eating situation.' This is not going to be the crazy milkshake, you know? My tacos will not weigh you down. This is actually a sustainable breakfast to eat every day." For now, though, she's going to focus on operating pop-ups and delivering tacos to hotels and coffee shops, which, like in Austin, would keep them in warmers.
If this whole concept seems straightforward and a bit obvious, Solomon agrees, and she's as surprised as anyone that she's now the breakfast-taco pioneer. "You know, if you talk to any Texan who lives here, I think about 75 percent of us say that we want to open a breakfast-taco place," she says. "It's some weird pipe dream when you live in New York, because you know that something is missing here, and nobody has done anything about it," she says. "Why? I decided it's my duty."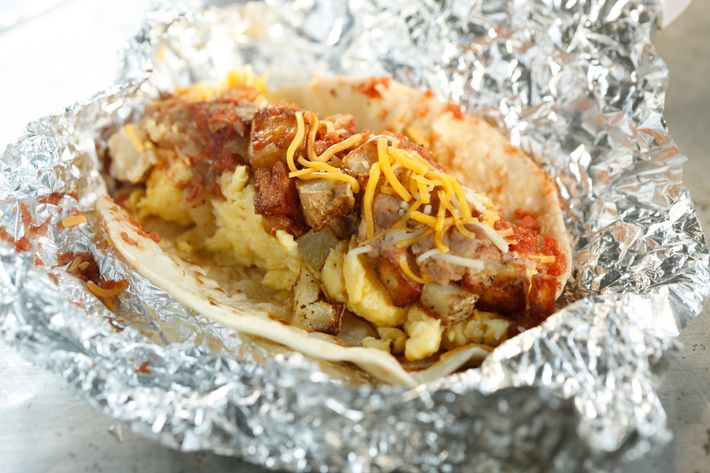 The name "King David" actually comes from her Jewish father, who first inspired the idea. "This is a relatively new venture, but it's been brewing forever, if I think about it. Ten years ago, he came to visit and was like, 'You know what? You should open a taco truck in Times Square and sell breakfast tacos. Why do they not have breakfast tacos here?' And this was before trucks were even a thing. I said, 'Dad, I'm not going to be a coffee-cart man selling tacos.' But that stuck with me, and it was always in the back of my mind. He has early onset dementia, and the dream that was his became mine."
After years of dreaming about this business — nervous to leave her secure corporate job — and then months on end of meticulous recipe-testing, Solomon is finally starting to gain traction, delivering to high-profile groups like The Nightly Show With Larry Wilmore. But she knows there's a learning curve here, as many New Yorkers don't understand why something so simple is actually quite unique. "I have to question myself every day: Am I insane? And I'm sure when this gets published, there are going to be so many freaking opinions about the best taco. People are always asking, 'Are you going to pickle your own escabeche?' No, guys! I'm not going to over–New York–ify the breakfast taco. If you want to go off and and make other great breakfast tacos, okay. But I'm going to make the foundational one, because no one here has done it right yet. I'm going to show you the first one, and then we can go from there."