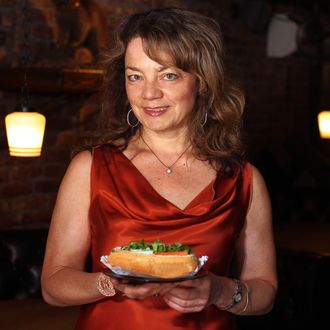 Krader will keep covering restaurants and chefs at Bloomberg.
Photo: Melissa Hom
Kate Krader has reigned as Food & Wine's restaurant editor for more than two decades, shepherding the magazine's news, restaurant, and chef coverage and Best New Chef series. Over the years, she's become one of the most connected writers in the business and a name pretty much synonymous with the Food & Wine brand.
After over 20 years, Krader will end her tenure at the monthly magazine to join Bloomberg, which recently lost esteemed critic Tejal Rao to the New York Times. In her post, Krader will work in print, online, and radio covering fancy restaurants, top chefs around the world, food travel destinations, and more. Her departure is certainly the end of an era and another changing of the guard for Food & Wine, following the departure of veteran editor-in-chief Dana Cowin earlier this year.