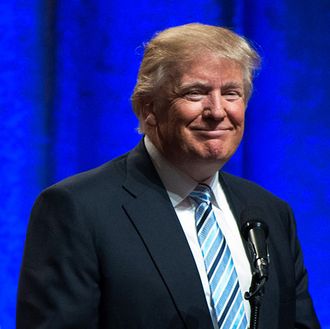 Not just "wrong," but "un-American," Tetrick says.
Photo: Bryan Thomas/Getty Images
Fresh off his defeat of Big Egg, Hampton Creek co-founder and CEO Josh Tetrick has zeroed in on a new menace: Donald Trump. The vegan-food tech titan bought full-page ads in Sunday's New York Times and Cleveland's Plain Dealer, the home paper for this week's Republican convention, and attacks the GOP nominee in a manner that's fair to say does not mince words. At just 129 of them (including "Josh" and "Tetrick"), he assures the Donald that his campaign is "un-American," "will break down," and is generally just a very bad thing:
Dear Donald,

Americans are frustrated and angry and scared. You've channeled this into your nomination.

Americans are also good. We're generous and courageous and kind. That's what you've missed.

A single mom in Birmingham who taught her son how to rise while respecting women. The Toledo autoworkers fighting to protect the jobs of their immigrant brothers. And the families of faith in Little Rock who believe in lowering taxes without lowering their values.

This is who we are. And this is why your campaign will break down.

Your campaign doesn't just seem wrong. It feels un-American. To support it would make me less of myself, less of my grandpa's grandson, less of my mom's son.

Turning away from you is a way to say who we are.

Josh Tetrick
(415) 404-2372
Yes, that number at the bottom goes to Tetrick's actual cell phone. He tells CNNMoney he's getting about ten texts a minute from random people around the country, and he's well beyond 600 voice-mails at this point. About "98% have been heartfelt," he says, including "lots and lots of Republicans" thanking him for calling Trump out.
Tetrick has actually run ads in newspapers numerous times, but prior letters have never veered outside of food policy. His argument is he didn't have much of a choice about this detour into Trump's unfitness for office: Denouncing him actually fits Hampton Creek's mission of "effecting change in the world," he explains, adding the nightmare of a Trump presidency had just gotten too real: "I just had to get this out of my head so I could sleep better. It's too important."