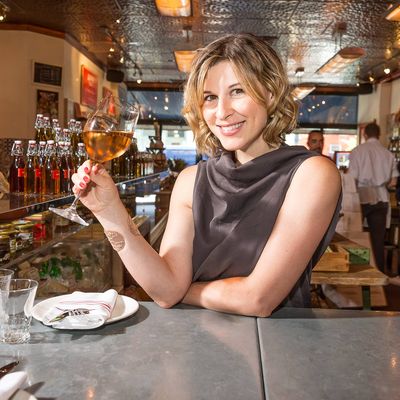 Salcito at Il Buco Alimentari, one of her local favorites.
Photo: Noah Fecks
You might recognize Jordan Salcito as the beverage director for the Momofuku restaurant group (and a former sommelier at Eleven Madison Park), but the respected wine authority is also an entrepreneur. She has her own wine label, Bellus, and will soon launch a new endeavor: Ramona Fizz, the first canned wine cooler (yes, really) made from organic ingredients. This week, Salcito did some "research" while vacationing in Sicily and enjoyed plenty of rare, exceptional wine. Read all about it in this week's Grub Street Diet:
Thursday, July 14
The week starts out differently than usual because I'm in Sicily for a bit of work, and some downtime, with my husband Robert [Bohr, the co-owner of Charlie Bird and Pasquale Jones], my son Henry (5 and a half months), and some friends. From a consumption standpoint, most of my days begin the same regardless of where I wake up. As a breast-feeding mom, I drink an ungodly amount of Traditional Medicinals "Mother's Milk" nursing tea. Bags of it accompany me everywhere. I also eat about twice as much as I used to.
I start the day with a pot of Mother's Milk tea and a green juice. I also grab a white doughnut peach, which, like every piece of produce I've consumed in Sicily, tastes than any version of that same thing in the U.S. My husband and I have booked a sailboat for the day along with our friend Jean-Laurent Vacheron, who lives in the Loire and makes world-class Sancerre.
The sailboat is stunning and makes me want to live on a boat. We open some local rosé made from Nero d'Avola. It's good! I'm surprised because Nero d'Avola is not always known for its charm. I was anticipating a much clunkier rosé, but this one is balanced and refreshing.
The owner and captain, Enrico, lays out a platter of perfectly sun-dried cherry tomatoes marinated with capers and olive oil, as well as a local sheep's-milk cheese drizzled in honey. He follows that with two more cheese courses (ricotta and smoked mozzarella) accompanied by slices of traditional Sicilian brown bread, followed by fresh anchovies cured with celery, citrus, olive oil, and vinegar, and a salad made of fennel and cubes of fresh oranges. Afterwards, he offers us a basket of fresh fruit, and I eat an apricot.
Unintentionally, we chose the hottest day that week for a boat ride, and once back to land we decide to walk around a bit. Gabriel and Robert are in the mood for gelato. A combination of luck and Trip Advisor led us to a gelateria called Gusto, which makes the best gelato I've ever eaten in my life. I order a cone with half lemon sorbetto, half yogurt gelato — and sneak a bite of Robert's pistachio as well.
For dinner that night, we cook fish we'd purchased at the Catania Fish Market the day before. I make an Aperol spritz and prepare fritto misto for our aperitif (baby cuttlefish and baby smelt), and our friends make an insane marinated-mackerel dish with grilled cherry tomatoes, an enormous platter of ratatouille, and two salads — one of chard and sliced turnips, the other of radicchio, basil, and fresh peaches. Plus, a whole fish baked in salt crust.
We tried about 20 different bottles of wine. Some of the highlights: 2011 Sandhi Chardonnay from Sanford Benedict vineyard, 1993 Meursault 1er Cru "Perrieres," a magnum of Fred Savart's "Bulles de Rosé" and a white wine — Haut Cotes de Nuits Blanc — from Domaine de la Romanée-Conti that is sold in minuscule quantities to only one wine shop in the world.
Friday, July 15
In the morning, I drink a green juice (spinach, romaine, cucumber, lemon, ginger) and have a small bowl of plain yogurt with honey. I also have a pot of Mother's Milk tea. We drive to Taormina to visit the town and also snorkel in Giardini Naxos. On the boat, the captain serves a plate of fresh fruit, some of which I eat, and stale crackers, which I avoid. There's also Vacheron Sancerre rosé, so I have a half-glass of that as well.
For lunch, we'd hoped to dine at Trattoria Nero d'Avola in Taormina, but during the summer, for some reason, it is closed for lunch — so instead we find a different one, Trattoria Nino, high on the hill overlooking the ocean. I order a green salad and "mixed grill" of fish, which sounds risky but is excellent — grilled calamari, bass, red prawn, and mantis shrimp, along with a piece of zucchini baked with breadcrumbs and tomatoes. The table orders a bottle of Benanti "Pietramarina" 2011, the final vintage in which the storied former winemaker had any involvement.
We then walk five minutes to a spot that we hear has excellent gelato, though it turns out to be a granita shop called Bam Bar. Granitas are my main revelation of the trip. I have always thought of a granita as a sort of cold, prickly, joyless frozen concoction, but granite here are more like "gelato light" — made with fresh ingredients, served in a cup, smooth, refreshing, and perfect on a hot day. I order half almond, half chocolate, and eat half of it. (Henry starts to cry, which means I need one hand to hold him and the other to get out my iPhone to play Lemonade by Beyoncé. "Hold Up" is the only surefire trick I have to calm him anywhere.)
For dinner back at the house, we cook the rest of the fish we'd purchased at the Catania market, and make excellent fried and breaded baby smelt, seasoned with salt, lots of black pepper, red pepper flakes, and shredded arugula. I have an Aperol spritz followed by small tastes of other wines, including a wine from Lazio that had been "heavily inspired" by Domaine de la Romanée-Conti's packaging, plus a declassified Sancerre bottling that Jean-Laurent makes from old and ungrafted vines.
Henry starts to break down, and I put him to bed. An hour later, when I return, everyone is eating gelato and playing a dice game called Perudo, or "Liar's Dice," so I have some lemon sorbetto, a bite of hazelnut gelato, and a few sips of Vacheron Sancerre rosé before I join in.
Saturday, July 16
I start the morning with one cup of Mother's Milk tea that I'd brewed and not finished the night before. Then I go to the breakfast table with Henry and have a green juice (spinach, romaine, cucumber, lemon, ginger) before adding a bit of plain yogurt with orange jam made at the house. The others make scrambled eggs, so I have some of those as well. I also have two-thirds of a kiwi (and shared the rest with Henry), and then a fresh pot of Mother's Milk tea.
A few hours later, in Siracusa, we have lunch at a beautiful spot — an outdoor café in the Piazza del Duomo in an exceptional location. But it's the one subpar meal of the trip. I order an Aperol spritz, a mixed salad, and a bowl of clam soup (fresh clams, fresh tomatoes, basil and oregano, all of which are decent). Robert fares worse with "pizza" that looks like a bad version of Domino's.
We wander around Siracusa, write a few postcards, visit the ancient Greek Temple of Apollo, and then sit down for a snack at a much-better-looking café not far from our lunch spot. I order a caffè shakerato — chilled, shaken espresso. After that, we'd initially planned to hit up our favorite gelato shop, Gusto Gelato on Via Roma, but we need to head to Catania to catch our flight. Instead, I down half a bottle of sparkling water in a small piazza surrounded by pomegranate and oleander trees.
When Swiss Air presents a meal, I snack and am impressed. It's a plate of marinated-tuna slices with chopped tomatoes, capers, fresh walnuts, and frisée. The dish includes a mousse of sorts in the center, which I avoid. I also have a whole-grain roll with butter, and a small piece of Tête de Moine cheese. To drink, I have sparkling water with lemon and a cup of Mother's Milk tea. The lovely folks at Swiss Air bring a piece of chocolate with the hot tea water, so I eat that as well. And I try a sip of a red wine, Dole, before returning to Mother's Milk tea.
Sunday, July 17
Sunday is a second travel day, flying from Geneva back home to New York. Anticipating less-than-nourishing airplane options and knowing I'd need to eat something in order to be able to feed Henry, we preorder breakfast in the room — something that still feels like such a luxury. I drink a glass of citrus juice (half orange, half grapefruit), eat a poached egg, and have a couple of bites of whole-grain toast with butter and a cup of English Breakfast tea. I also grab a white doughnut peach that the hotel had left in our room.
On the plane, I opt for the "brunch option" and quickly realize it's not the winning choice when a plate of several yellow-ish brown bites (a chicken breast, an omelette bûche de Noël, a crêpe) materializes. It makes me think of a Lucky Peach article I'd read years ago about Andy Warhol staying thin by ordering things he didn't like, and then giving them away. I eat a bite of the crêpe, opt for cheese after the meal, and drink hot water with lemon throughout the flight.
Around landing, we're offered another snack — cheese, crackers and prosciutto, cubes of fresh fruit, and two chocolate truffles in a little blue United-branded chocolate box. One is a dark chocolate and caramel-flavored; the other is mysterious and milk chocolate and easy to pass.
We get home to our apartment around 1:30 p.m. It is muggy and hot. Robert watches Henry while I take a Pilates class at NY Pilates, my new obsession. While I'm there, Robert and Henry visit Sweetgreen, and Robert orders me a Strawberry Fields with extra almonds for later. I devour it around 4:30.
Hungry or possibly just tired, I open the freezer and discover some OddFellows honey-and-sunflower-seed ice cream, and have three bites out of the container before brushing my teeth and passing out on the bed. For the first time in my life, I'm out by 7 p.m.
Monday, July 18
Not a typical morning. Henry wakes up at 3:35, so I do, too. At 4 a.m., I grant myself permission to have some caffeine, and brew a cup of Mariage Freres "Paris Breakfast" tea with some orange-blossom honey and a splash of 2 percent milk. At 5 a.m., another cup of tea.
We have no food in the house, so Robert puts Henry in the stroller and takes him to the 24-hour Morton Williams to purchase some groceries. While they're out, I have a small bowl of granola from Another Mother, an exceptionally good granola that a friend of ours, Nicole Kauffman, makes in small batches. We have no yogurt in house, so I pour on a splash of 2 percent milk and sprinkle on chia seeds.
At 8 a.m., Whole Foods opens and I take Henry on a walk to get Mother's Milk tea and White Moustache yogurt. They're out of yogurt, but I get bananas, tea, and a green juice. At 9 a.m., I have half of the juice, and then at 11 a.m. another small bowl of granola with a hefty sprinkle of chia seeds and a Greek yogurt with oranges and figs.
That afternoon, I eat organic feta cheese, and then a cup of Dean & DeLuca's Manhattan clam chowder soup with a half-slice of cornbread (which is usually excellent but is way too dry).
Around seven, I make a sandwich of white Cabot Cheddar on whole-grain toast with arugula sprinkled with olive oil, salt, and black pepper. From then until 9 p.m., I'm completely preoccupied with sleep-training Henry and proceed to lose all appetite. But then I open the cabinet and discover some chocolate-covered almonds. I eat a handful and head to bed.
Tuesday, July 19
I wake up at a glorious 7:30 a.m., which means that Henry's first night of sleep training was successful after a very sad bout of crying around 10 p.m. and a quick feeding at 4 a.m. Start the morning with a cup of Mariage Freres "Paris Breakfast" tea, followed by breakfast with Henry — a cup of granola from Another Mother with half of a sliced banana, some fresh blueberries, and a teaspoon of chia seeds.
Our nanny arrives at 10 a.m. and I dive into a rabbit hole of email. Around 11 a.m., I down the second half of yesterday's green juice before heading to Ko for a few tasting appointments, followed by a beverage-team meeting. Ko's staff meals are generally excellent, and fortuitously, the end of our meeting coincides with one. One of the new cooks, Danny, makes something called "cheese toast" with Ko's sourdough bread. And Marc, one of Ko's super-talented sous-chefs, is practicing sticky buns, so I eat one a few minutes after he pulls it out from the oven.
At our next meeting, one of my colleagues, who'd just returned from a trip to South Africa, produces a bag of Haribo "Air Parade" gummy airplanes, and I have five before recognizing that a sticky bun, cheese toast, and gummy airplanes are a terrible combination on an empty stomach. By the time the meetings have ended, my body has developed an almost convulsive craving for vegetables. There is a new shop called Pressed Juicery on our block, where one can order a green juice for a mere $6.50 (which of course sounds ridiculous, but is quite a value in relation to other juice shops these days). I order "Greens 1.5," which is salty and green and cleansing.
Then I put Henry to sleep, read a few articles about the speech Melania Trump stole from Michelle Obama, and attempt to gnaw through the ever-growing pile of emails in my in-box. For dinner, Robert and I have a late bite together. He brings home a pork shank and sea bass with romaine lettuce and morels from Pasquale Jones, and we eat together and talk about our days — and also marvel that so far, after one night, the sleep training appears to be working.