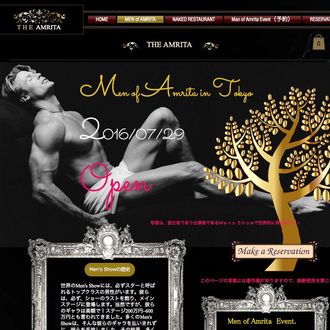 When the brains behind the Amrita announced Japan was getting its first all-naked restaurant in late August, it was clear it wasn't going to be the Paleo-primal safe space promised by its forerunners. The idea was to make diners pay as much as $563 to eat pantsless, and make sure the bodies they planned to flash satisfied several criteria: Old and wrinkly was a no-go (the max age was capped at 59), tattoos were expressly prohibited, and a diner's weight shouldn't exceed 15 kilograms above the average for their height. Worst of all, patrons, who have to prepay, would be asked to step on a scale if their figure looks iffy.

Well, it seems this ageist body-shaming triggered "an angry backlash," and the pop-up's creators have been forced to rethink a few things. According to The Telegraph, they've posted a revised door policy allowing "anyone aged from 20 to 120" to enter. Also gone is the weight restriction and the scales that seemed devised to deliver maximum public humiliation.
The ban on body art remains, though, sorry to say, as it's seen as "a sign of Japan's underworld," and obviously the underworld doesn't belong anyplace underwear isn't welcome. No news on the Men of Amrita — the all-male waitstaff composed entirely of guys "with the world's most beautiful bodies" — so that's probably all still a go. Opening night is reportedly already sold out, and the creators are already promising to bring the pop-up to at least two other cities besides Tokyo.