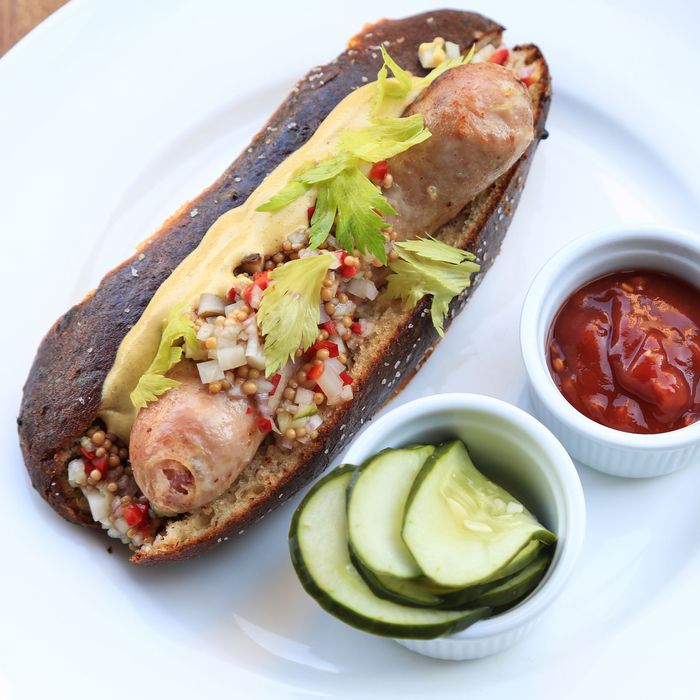 Freud's käsekreiner.
Photo: Katie Burton
Leisurely lunches are not something overworked New Yorkers are able to often very enjoy. But if there's ever a time to change that and take a break (or, hell, a day off for a meal) it'd be now, as a handful of heavy hitters have recently extended their hours into the early afternoon. David Chang's Nishi, Pasquale Jones, and Ignacio Mattos's Café Altro Paradiso launched lunch this week, joining new all-day restaurants like Hail Mary and the Wild Son, and recent lunch upstarts like Indian Accent. In other words: It's high time to enjoy the summer and get out of the humidity and into a great restaurant's air-conditioned dining room. Here, 12 dishes to choose from for your next lunch — just don't forget the martini.
Käsekreiner
Where: Freud
Price: $14
The lunch menu at Eduard Frauneder's Austrian spot includes what is surely one of the most appetizing-sounding foods: a cheese sausage. In this case, that'd be a käsekreiner — a cheese-spiked Slovenian sausage similar to kielbasa — served with a ramp vinaigrette and, of course, mustard.
Whole Roasted Chicken
Where: Café Altro Paradiso
Price: $31
The Tribeca spot just started weekday lunch service, which is great news because the room is tailor-made for leisurely lunches. The menu changes frequently, and a Milanese di pollo was swapped out for, if you're feeling ambitious, a whole roasted chicken. It's served with fava beans, farro, and mint.
Chilled Soba
Where: Nishi
Price: $23
Summer in New York has reached its oppressively hot and humid stage, which means it's cold-noodles season. Cue David Chang, whose new weekday lunch menu at his Chelsea restaurant includes a refreshing chilled soba with salty uni, rye dashi, and scallions.
Benton's BLT
Where: Hail Mary
Price: $13
Greenpoint's nouveau dinner swaps out commodity bacon for Benton's excellent, ultra-smoky stuff, but sticks, as it should, to Hellmann's mayo.
Matbucha Hummus
Where: Dizengoff
Price: $12
The Chelsea Market outpost of the Philadelphia favorite gives you a good reason to get a head start on tomato season: serving its acclaimed, creamy hummus with matbucha, the invigorating Moroccan "cooked salad" of tomatoes and bell peppers seasoned with garlic and chiles.
Smoked Salmon Tartine
Where: Great Northern Food Hall
Price: $7
Grand Central Terminal's new food hall has a stand, Open Rye, devoted entirely to tartines, with options including juniper smoked salmon with fennel, apple, and horseradish skyr.
Costillas De Ternera
Where: Amada
Price: $15
Pizza for lunch is perfectly acceptable, so switch it up with one of the tapas restaurant's two cocas, the pizzetta-like pastry from Catalonia. Go all in with the costillas de ternera, short rib with bacon, horseradish, and Parmesan.
Tuna Bhel
Where: Indian Accent
Price: As part of a $31 two-course meal
The lunch prix fixe at the refined Indian restaurant features two dishes not available at dinner. The more appealing of the two, during these dog days of summer, is the tuna bhel ceviche, cubes of raw tuna with tomato, water chestnuts, pomegranate, orange juice, and tamarind sauce served on garam masala–seasoned tuna cream. It's topped with puffed-rice crisps and a garnish of baby salad greens.
Spaghetti
Where: Pasquale Jones
Price: $24The wood-fired pizzeria's daytime menu includes a spaghetti dish fit for summer. Made with noodles from Tuscany's famous Martelli, the pasta is paired with briny and sweet blue crab and squash blossoms.
Smoked Trout
Where: The Wild Son
Price: $12
The all-day restaurant's sandwich section includes this number made with house-smoked brook trout with hardwood bacon, green apple, frisée, pickled onion for a dash of acidity, and horseradish creme.
Chicken Parm
Where: Emmy Squared
Price: $15
Lunch is your best bet for beating the crowds at the hit Williamsburg pizzeria, and you'll find the same menu of excellent pan-baked Detroit-style pies. Get a Lou-Wow or two, but don't sleep on the awesome chicken Parm, which has a crisp crust, a proper layer of mozzarella, and a bright, chunky tomato sauce.
Chicago Beef
Where: Hank's Juicy Beef
Price: $11
Then again: New York's first shop dedicated to Chicago beef — the sandwich of thinly sliced roast beef and sweet peppers or spicy giardiniera on chewy bread — has finally opened, so your lunch plans are probably already settled.