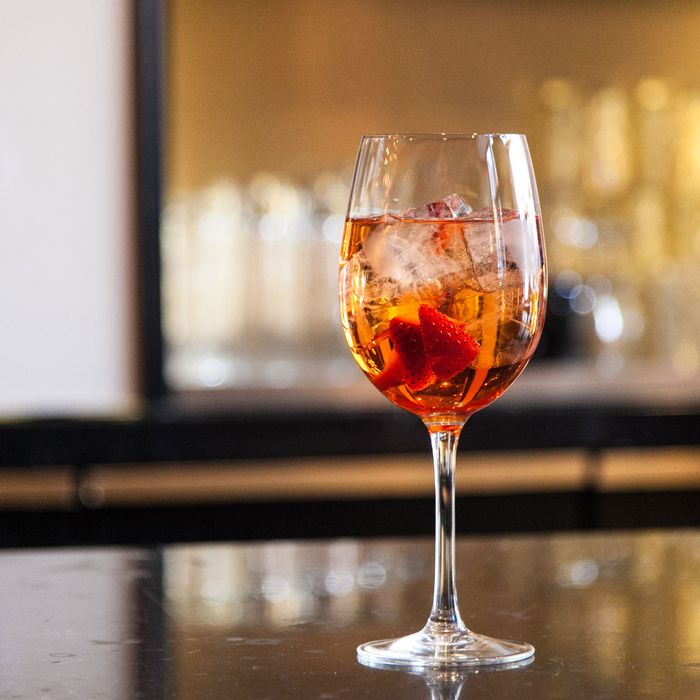 The Bennett's Strawberry Letter.
Photo: Andrew Kist
With the age of the faux-speakeasy receding further into the rear-view mirror, it's become acceptable again to, gasp, drink cocktails that aren't drenched in bourbon made in some guy's Tennessee shed. Spritzes are now in vogue (there's even a whole book devoted to them), Grub Street detected rumblings of the half-martini-lunch era last summer, and more people recognize that less-boozy session drinks are awesome even if they don't have notes of smoke and charcoal. Bars have, accordingly, responded with low-alcohol drinks that go beyond your usual Americanos and coolers. Here, 15 ones to sip on this summer.
Strawberry Letter
Where: The Bennett
Price: $15
For those who can't get enough berries, the cocktail combines rosé vinho verde with citrusy Aperol, a strawberry shrub that's made with raspberry vinegar, club soda, and sliced strawberries.
Empire Cocktail
Where: Eleven Madison Park
Price: $18
It's always nice to remember that you can get a reservation-free EMP-lite experience at the posh bar, where they make cocktails way better than the typical fancy restaurant. Right now the aperitif selections include a classic Empire Cocktail made with blanc vermouth, fino sherry, original triple sec Combier, and orange bitters.
#1
Where: Le Coucou
Price: $15
While waiting for your table at the loungelike bar at Daniel Rose's elegant new bistro, start your night off easy with this cocktail of pear cider amplified by lemon and bitters.
Spiced Bellini
Where: Pouring Ribbons
Price: $15
There's, of course, nothing wrong with a good old Bellini, but the great East Village bar seasons its blanc-cava-and-white-peach variation with ginger, cinnamon, and black pepper.
Sassafras
Where: Olmsted
Price: $12
Inspired by the idea of a slightly boozy root beer, this drink combines club soda and mint, with two parts sweet vermouth to one part Fernet Branca.
Lambrusco Spritz
Where: August Laura
Price: $12
Italy is the land of easy-drinking cocktails, and its bar culture inspired this Carroll Gardens spot. Their spin on the spritz is made with fruity sparkling red wine Lambrusco, limoncello, and prosecco.
Señorita Spritz
Where: Llama Inn
Price: $13
Available at the restaurant's new rooftop terrace, this sherry-and-cava spritz gets a Peruvian touch from the mintlike herb muna and includes strawberry shrub, St. Germain, Peychaud's bitters, and Perrier for extra bubbles.
El Barrio Spritz
Where: Leyenda
Price: $12
At the Latin American bar, they make their Cocchi Rosa spritz extra aromatic with rosewater and chamomile, then give it a little extra kick with a splash of tequila.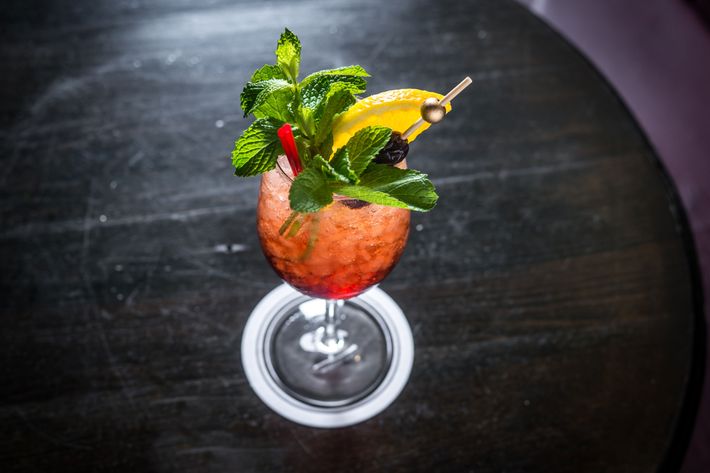 Madeira Cobbler
Where: Covina
Price: $15
Pair your faro farfalle with a cobbler made with Madeira, nutty orgeat syrup, lemon juice, tiki bitters, and just a little bit of Wray and Nephew overproof rum.
Birra+
Where: Pizzeria Sirenetta
Price: $12
Campari and beer work strangely well together, and at the uptown pizzeria they're embracing the combo by mixing the liqueur with Radiant Pig IPA and a lemon twist.
Sans Culottes
Where: Le Boudoir
Price: $12
At the Marie Antoinette–themed bar, they serve this cocktail of blanc vermouth with lemon, ginger syrup, and — why not? — more Campari.
Lava Colada
Where: Pearl & Ash
Price: $12
Summer is for pina coladas, yes. Sometimes, though, you're feeling something a little less boozy, and Pearl & Ash delivers with a variation made with Salers, the bitter and botanical aperitif, and pickled pineapple.
Spanish Sun
Where: Acme
Price: $14
At the downtown bistro, they take the made-for-summer Spanish wine Albariño and punch it up with lemon, bitters, and fruity, full-bodied Cocchi Rosa.
English Grapefruit Cup
Where: Suffolk Arms
Price: $15
The refreshing drink from Giuseppe Gonzalez's Lower East Side bar combines ginger liqueur, vermouth, and grapefruit beer for fizz.
Walking Distance
Where: Nitecap
Price: $15
The Lower East Side cocktail spot, the Best Downtown Date Bar, will be closed for a handful of days while it relocates into the former One Fifty One space. When it reopens, get this orange-wine spritz made bubbly with sparkling wine and rounded out with blueberry tea-infused vermouth, Lustau Moscatel sherry, raspberry, and Campari.
Vermouth Service
Where: Dante
Price: $9
A simple vermouth-and-soda isn't really a cocktail, but it's one of the more refreshing drinks around so consider this a bonus round — so think of this as a bonus, 16th option. The bar doesn't mess much with the basic chemistry, only adding a lemon twist and a few green grapes.