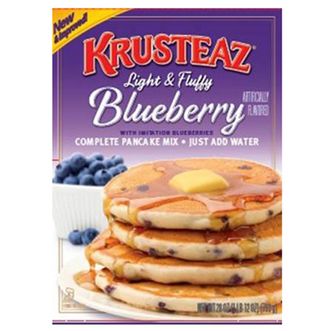 Maybe make it an Eggo morning instead.
To add to the very long list of foods to definitely (maybe?) avoid at the grocery store: pancake mix. Continental Mills says there may be E. coli in the flour used for its Krusteaz Light & Fluffy Blueberry mix, and has therefore recalled some 30 million pounds of it from grocery stores nationwide. No illnesses have been reported yet, but the recall itself is tied to a much larger outbreak stemming from tainted General Mills flour that's so far sickened 42 people in 21 states, which certainly gives people reason for concern.
The affected Krusteaz mix was produced between April and June of this year and sold in two different sizes: a 28-ounce carton with best-by dates that run between March 30, 2018, and June 16, 2018, and a three-and-a-half-pound bag with a best-by date of either April 27 or April 28, 2018. The perpetual killjoys at the FDA, which also posted the recall, are no doubt silently going, Told you so.