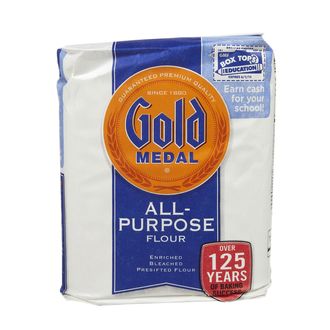 Avoid like the plague, or at least like an outbreak of E. coli.
If there are doubts about whether to chuck that three-quarters-full bag of Gold Medal all-purpose in the pantry, now's the time to just let it go. That's because General Mills has expanded, for the second time now, its already-massive flour recall over E. coli fears. The affected-products list is lengthy, but what should be disposed of are the company's Gold Meal, Wondra, and Signature Kitchen brands.
According to the FDA, 46 people have gotten sick so far in 21 states; 13 of them have been hospitalized, and 1 developed kidney failure. The newest cases were reported as recently as the end of June, and the first go all the way back to December 2015, so the outbreak is now pushing into its 19 month. General Mills recalled the initial 10 million pounds in May, then in July expanded that by another 20 million. This latest addition throws in 15 million more, bringing the total to 45 million pounds.
It came because the FDA discovered a second strain of the bacteria in General Mills' flour after running tests. This finding, which the agency released Monday, convinced the company to include more of the bags produced at its plant in Kansas City. Now the affected production dates run between November 4, 2015, and February 10, 2016. No doubt trying to calm consumers' nerves and also do some intro-level food-safety education, General Mills is reminding people that flour is an "ingredient that is intended to be cooked or baked," and never, ever eaten raw, no matter how enticing that cookie dough looks.