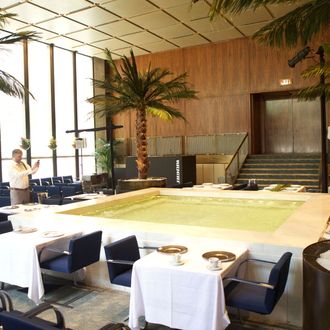 Now with their happy new owners.
Photo: Clay Williams
At yesterday's Four Seasons auction, people said good-bye to the restaurant by dropping appropriately over-the-top sums for its mid-century furniture and knickknacks. The Times reporter on the scene says most items went for at least five times their estimates. Someone dropped $36,000 on a table from the Grill Room; a pair of entryway ottomans sold for $18,000; a Philip Johnson curved banquette fetched $50,000; and one lucky bidder practically stole a set of Ludwig Mies van der Rohe chairs with "assorted surface scratches" for $30,000.
Four ashtrays showing "evidence of light surface wear" were expected to go for $700, tops, but somebody threw down $10,000 for those. Five bread baskets went for $7,000. The famous tree-motif sign by Emil Antonucci that was mounted on the Seagram Building's facade created a ten-minute bidding war that somebody won for $96,000 plus sales tax and a 20 percent "buyer's premium."
There was at least one sweet story, though: A man who stole an original bronze Four Seasons sign as a teen in 1960 (and proudly held onto it ever since, even after moving to Florida) gave it back to the restaurant to auction off. It went for $40,000, eight times its estimate, and the proceeds are being donated to the Children's Health Fund.