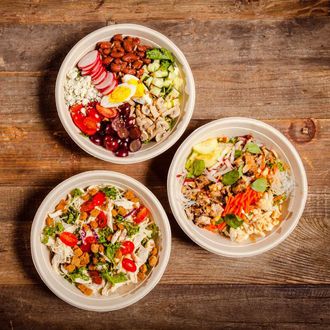 Three of Everytable's cold bowls.
Los Angeles is about to boast another possibly game-changing restaurant chain committed to producing fast food that's tasty and healthy yet still cheap. Opening this weekend, Everytable is a grab-and-go concept dreamed up by two former Wall Street guys, Sam Polk and David Foster, and built around perhaps the most radical pricing model in the industry: Per-capita income data was used to figure out a neighborhood's average income, then price the food accordingly. For instance, a Jamaican jerk chicken bowl that costs $8.95 downtown near the luxury high-rises will go for $4.50 in South L.A.
It's the latest in a string of ambitious business models, like Roy Choi and Dan Patterson's LocoL, also out in L.A., that seek to bring delicious affordable food to poorer U.S. neighborhoods. Everytable's novel strategy, though, is to let higher prices at locations in better-off parts of town offset smaller profits elsewhere, though Polk and Foster stress that "each store is designed to be individually profitable." They describe the model as being like Toms, where customers "buy a pair of shoes knowing that someone else in some needy part of the world is going to get a similar pair of shoes for nothing." (Toms is an investor, actually.)
Everytable utilizes a central kitchen so stores can be tiny and run by just two employees per shift. Customers who want hot food have to nuke it themselves in the store's microwave, and ingredients will be fresh and (when possible) locally sourced, but not fancy. Polk says these things are serious cost-savers: "If you walk into Chipotle, what you'll see is a 2,500-square-foot space, 15 employees, a fully built-out commercial kitchen, all of which is why they will never sell a $4 burrito."
They hope the menu — which includes gluten-free and vegan items, all created by Craig Hopson, former executive chef at Le Cirque — will appeal to a wide range of people. The chain will start off slow with just those two locations, but Polk thinks they'll be pushing ten-plus by the end of 2017.