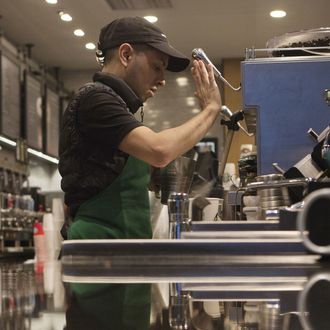 Hard day's work.
Photo: Victor J. Blue/Bloomberg via Getty Images
A petition started by a Starbucks barista has garnered almost 10,000 signers who argue that the coffee giant is "killing morale" at stores by cutting hours. Jaime Prater, the guy who launched it on Coworker.org last week, says workers are struggling to adjust to "some of the most extreme labor cuts in Starbucks history," adding, "Morale is at the lowest I've seen it in my nearly 9 years of service with Starbucks." He and other critics say the chain, which still pays better than many in the retail world and offers some of the best benefits, is trying to save money after missing revenue expectations earlier this year. Stores are being intentionally understaffed to shed labor costs, they claim, and the raises workers used to get twice a year now come only once.
In all, the situation's gone from "tight to infuriating," the petition claims:
Labor has been cut so much in corporate stores, that one call-off (an employee calling in sick) impacts the entire day, as managers are directed to cut shifts to save on labor costs. Baristas trying to work more than 25 hours a week (myself included) find that a near impossible task. You end up taking it personally, when corporate directs your stores to understaff, and under schedule. You wonder if they realize how difficult it is to pay your bills when you work 25 hours a

week?
Bonuses and personal days have reportedly also been phased out, and baristas can only take sick days if they work in an area that requires them by law. Also, the petition claims, tips are now worse, too: "Before [the new rewards program], tips were higher. Now, with a growing percentage and majority of customers using the app, and their registered cards, tips are in major decline. When you factor that in with actual take home pay, it's a scary place to be."
Prater tells Reuters he's "cautiously optimistic" after the big boss Howard Schultz called and asked how he could "make it right." That's all that's happened so far, though, so strapped baristas are just waiting it out to see what actual changes corporate is willing to make.