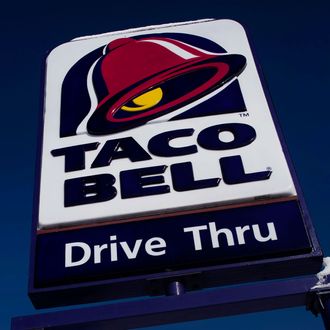 She's asking for unspecified damages.
Photo: Daniel Acker/Bloomberg via Getty Images
A deaf woman in Jersey is suing Taco Bell for allegedly discriminating against her at two different store locations. Gina Cirrincione claims the chain, which is capable of turning anything into a taco shell, proved useless at accommodating her needs in the drive-through and violated the Americans with Disabilities Act by refusing her service.
According to the suit, she visited the first location, in Pleasantville, back in January. She tried passing the drive-through worker a piece of paper with "1 soft taco, 1 soft taco supreme" written on it, but got shut down by the store manager, who came over and allegedly "berated her" for trying to order at the pickup window. During their exchange (Cirrincione filmed it), you can hear the manager saying, "This one time. After that, no more. Come inside." He ultimately handed her a note back that read, "In the future I will need you to come inside to order. It messes up our flow of business."
Round two came in March, when court documents say Cirrincione tried using a drive-through in Atlantic City. Here, she attempted the note-passing system again, but she claims that the drive-through clerk slid it back to her and shut the window, and that "not one Taco Bell employee communicated with her in any way, leaving her humiliated, frustrated, and confused." She parked and went inside, where she says staff completely ignored her until she left without being served.
Cirrincione claims the chain's drive-throughs are functionally "inaccessible to deaf individuals." Lawsuits making similar accusations about the ADA accessibility of chain drive-throughs have had luck in the past, and hers follows suit: It asks Taco Bell to fix its ordering system so customers don't have to do it verbally and hear the reply.